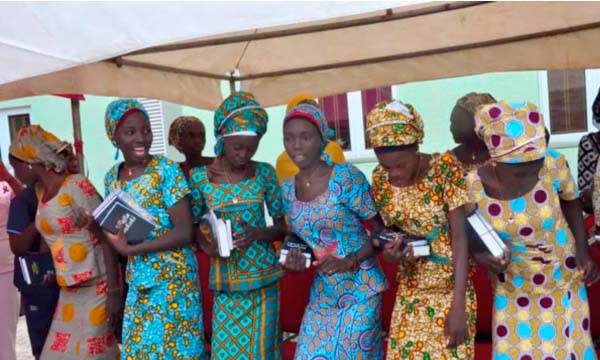 "Freedom is coming tomorrow. Get ready Mama and fight for your freedom, freedom is coming tomorrow."

This is not just any quotation or any statement, but it is a song played in the "Sarafina film", which was a song sang by students who dreamed to be free someday, just like the Chibok Girls and their families do.
So when the news of the release of some Chibok girls from Boko Haram custody reached me, it reminded me of this song, and I said to myself, "freed at last!"
The news of 21 Chibok Girls being rescued is indeed victory.
SHE-SHE-SHE wrote many articles, particularly on the anniversary of their abduction, to call on world leaders and the Nigerian government to take action in making sure that they bring back the girls, safe and sound to their families and the nation where they belong.
We equally called on President, Buhari who may in one way or the other a father, and will equally feel the pain of losing a daughter to strange men called terrorists, to work to release the girls and bring them back home to their mothers, safe and sound.
Hearing the release of some of them brings nothing but joy to their mothers, the Nigerian government, individuals and the world at large.
When I watched the video where they have been reunited with their mothers, my heart was heavy and my eyes filled with tears; and even though I was able to hold back my tears, I could still see and imagine the bond a mother and her child shares.
Seeing the way and manner their mothers welcomed, hugged, looked and paraded them like a lost diamond that has been found; and, yes, they are more than diamonds, because they are priceless to their mothers.
I saw one of the mothers carry her girl on her back tied to herself, and paraded her with a joyful face covered in tears.
They have been shedding tears for two years; and they have shed tears upon receiving them, but this time these are tears of joy welcoming a piece of them that had been forcefully taken away from them.
I came closer to the TV to take a closer look at these girls, and they looked so innocent and pure that even a blind person could tell that they were being punished needlessly, for these girls are not even capable of hurting a fly talk less of being enemies of anybody.
Their mothers' shedding tears, for two good years, was enough to feed the Atlantic Ocean, were it to dry up.
The sleepless nights of prayers and endless nightmares continued to haunt them, and posed a threat to their survival.
All these years they had spent crying out to the world, and anyone who cared to listen to help bring back their girls to them; and now their eyes glitter with hope, and at last some of them are back home to their family.
According to NAIJ.com, the Nigerian authorities said that the negotiations will continue to free the remaining girls, but some sources said only 83 out of the 197 left are being negotiated for.
We want the world leaders and the Nigerian government, in particular, to know that it is their responsibility to free these girls, at any cost; because they are the ones who are in power and it is the people that placed them there. So if a terrorist group or Boko Haram abducted these girls, that is because they have issues with the government and the girls became the victims of such feud.
Some are saying that the government in their negotiation should not reach a bargain with Boko Haram, so as not to succumb to the demands of Boko Haram in exchange for the girls.
The Chibok Girls are human beings, pure in body and soul, and were forced into situations that were created by leaders they trusted and believed can protect them. So if they become victims for Boko Haram due to the dealings between the Government and Boko Haram, then they should succumb to anything to save their lives and bring them back to their mothers, safe and sound, because they owe it to them.
Every girl around the world should be safe even in her bedroom, talk less of school and home.
If Shekau wants his loyal people under the government's custody back in exchange for the girls, then that is what should happen; because if a president's daughter is abducted by terrorists he will even give up his presidency to safe her; so why not accord the same dignity and respect to the remaining Chibok Girls.
A mother is having sleepless nights, endless nightmares; and even though she is powerless and poor she utilizes and explores every available opportunity to cry out aloud to the world, asking them to please bring back her jewel, happiness, life, soul, and priceless daughter back to her, safe and sound. And yet some are turning a deaf ear to her call by saying that the government should not succumb to Boko Haram demands to put an end to these poor women's suffering.
Is the world fair to women and girls? Why will the world turn a deaf ear to the call of these women? When will they rescue all our girls at once? How can a woman or a girl enjoy living a feminine life if the world we live in is not conducive for women and girls?
To President Buhari, the girls that are rescued are proud of you, their mothers and family are proud of you, but listen to those that are still crying out for help.
You are a father and I'm sure you know how it feels to lose a daughter to death, but it is even more hurting and painful to know that your daughter is alive, and forcefully taken away from you and condemned in a strange and unknown location, and you cannot do anything about it because you are a helpless taxpayer.
If this pain is unbearable for you as it is for the mothers, please bring back the rest of the girls to us.
To Shekau, your loyalist under the custody of the Nigerian government are very much important to you, but I'm sure that some of them have daughters, mothers, sisters and will not love any harm to come to them.
You must be a loving father and a caring husband; so please extend your fatherly love to these girls and release them to their mothers, safe and sound, because they are innocent.
To the 21 Chibok Girls that were rescued, we know what you went through and we are with you in the process of cleansing all that trauma and suffering you went through.
Let the Nigerian society accept these girls as their own, and never stereotype them; because even though they spent 2 years in a strange land, they are still one of you.
We welcome you back home, and we look forward to reuniting with the rest of the abducted Chibok Girls
Bring back our girls; and safe a mother from endless nightmares!
Read Other Articles In Article (Archive)