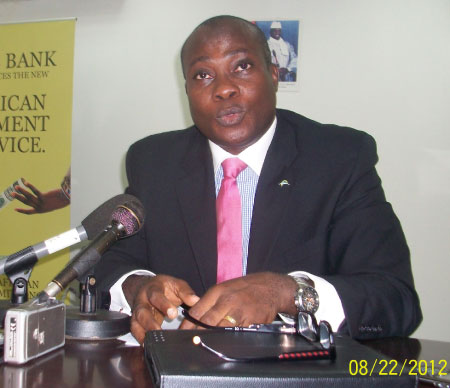 Mr Akim Yusuf, Managing Director Skye Bank Gambia limited has revealed that plans are underway by his bank to attract lucrative foreign investments in Agriculture, Oil & Gas Exploration and Energy sectors of the economy through a series of novel investor drive initiative championed by his bank.
The Skye Bank Chief Executive Officer revealed this information in a press conference at the bank's head offices along Kairaba Avenue on Wednesday 22 August, 2012. The press conference was part of activities marking the bank's three years of existence in the country.
In Agriculture, Mr Yusuf revealed that his bank was able to attract a multi-million dollar poultry investment, which is expected to produce 50,000 chickens every month when in full operation.
"We are happy to midwife that project.  The original factory was virtually dead but today it's been revived and revamped thanks to fresh capital the investor pumped there.  When the factory reaches it potentials it can supply about 50,000 chickens every month.  The poultry today produces 20,000 chickens per month and is expected that as time goes on it will enhance its capacity as well as improve its expertise" Mr. Yusuf said.  
On Oil & Gas, the Skye Bank CEO has this to say "Recently the government of The Gambia signed a petroleum exploration agreement with an American corporation and we are also happy to have initiated that move.  To the glory of God we are the ones who invited the corporation from America". He went on to say that the company is expected to inject a capital inflow of between several million Dollars in Foreign Direct Investments into the country over the few years.
Skye Bank, Mr. Yusuf says is in similar discussions with a company that is interested in investing in energy in The Gambia. The Investment he maintains will add the necessary boost in The Gambia's stride towards attaining its' development visions by creating 200 new direct employment opportunities as well as help galvanize other informal sectors of the economy.
In meeting upcoming regulatory requirements, the Skye Bank MD said that the bank and its parent bank have commenced moves that are expected to increase its capital base beyond the minimum requirement.
Mr. Yusuf also, in response to questions regarding branch expansion, said that the bank will be opening more branches over the next few years and will give consideration to the provinces.
About Skye Bank Gambia
Skye Bank (Gambia) Limited is a wholly owned subsidiary of Skye Bank Plc.
The Subsidiary was incorporated in The Gambia on June 4, 2008. The bank is a result of one of the efforts of extending efficient and courteous banking service, for which Skye Bank Plc is known, to all parts of Africa.
Skye Bank (Gambia) Limited is also an offshoot of the expansion plan of Skye Bank Plc towards being one of the preferred banks in Africa.)
Skye bank Gambia commenced operations on the 13th July 2009 after it received its banking license on July 3rd of the same year.
Skye Bank staffs are equipped to deliver everyday traditional banking services with as much professionalism and courtesy to all customers. Customers will also enjoy offerings of retail banking products and services, corporate banking services as well as interbank and international trading transactions.
Some Skye Products are;
Skye Select:
These accounts are savings accounts with features of a current account. We have the individual and business select which are maintained with constant credit balances of D10,000 and D25,000 respectively at all times.
Skye seconds:
Is a sub set of Skye lifestyle, aimed at empowering our value customers to purchase genuine pre owned used cars from reliable auto dealers within the country.
Skye Auto Lease:
This product gives a flexible approach to the purchase of brand new cars.
Skye Lifestyle
Our penchant for providing convenience to you at all times cannot be overemphasized. Skye lifestyle is a consumer finance product we have carefully crafted towards meeting your social, personal and comfort needs.
This product allows you part finance the acquisition of desired assets such as house hold items, cars, homes, shares of quoted companies etc.
Skye Salary Express
Skye Salary Express Account is a salary advance product geared towards meeting the unforeseen urgent demands of salary earners before payday. Surveys have shown that the needs arise under two categories: short term and long term. Two streams of the proposed product have been developed to cater to these needs.
Skye Rainbow
Skye Rainbow Account is a savings account for children. It has special features designed to benefit parents seeking to save for the education and other needs of their children. In addition, it seeks to inculcate a savings culture in young children & teenagers thus educating them on the importance of saving and investing for their future
Skye Wise:
This savings product offers the individual the benefits of both the savings and current account benefits with the use of non-clearing cheque book.
Read Other Articles In Article (Archive)