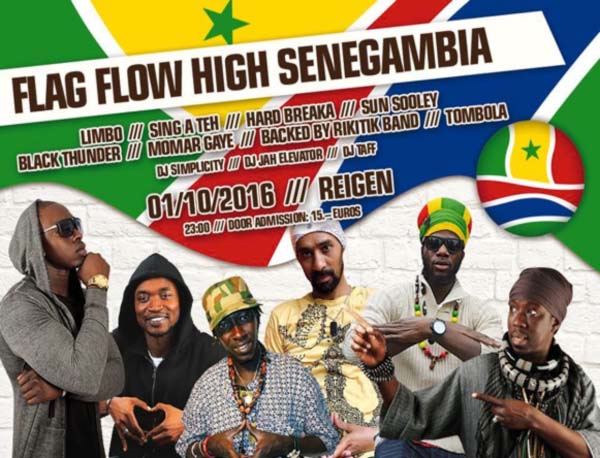 The 4th edition of Flag Flow High Senegambia music concert will attract Senegambia artistes on 1st October 2016 at Reigen Club in Vienna.

The Flag Flow High Senegambia music concert is an annually concert usually featuring Gambian artistes and DJs in Europe.
Artistes linedup representing The Gambia are Hard Breaka, Singhateh Rise, Limbo, Black Thunder and Lixen Khan; representing Senegal are Momar Gaye and Sun Sooley to be backed by the Rikitik Band, featuring DJs including DJ Taf, DJ Simplicity and DJ Jah Elevator.
Fabs Colley, manager of Flag Flow High Senegambia music concert told The Voice Vibes that: "We are aiming to uplift the Senegambia musicians living all over the world, making them known to the whole world and to be able to reach far in their music career."
"Our aim is to promote and provide them links, shows and concerts all around the globe!!! One love!!! World peace! Music universal language ...Afreeka unite for the benefit of the whole earth," Colley a Gambian promoter based in Vienna said.
He added: "Maximum big ups to the founders of this foundation Taff original, DJ Lamin Njie digital of Njie digital records, Simplicity Sound.
Big thanks is going out to all the people that helped the movement in one way or the other, especially all the artistes that ever performed in our shows. We are very proud of you. This movement does not belong to the founders any more. It belongs to all of us.
Read Other Articles In Article (Archive)