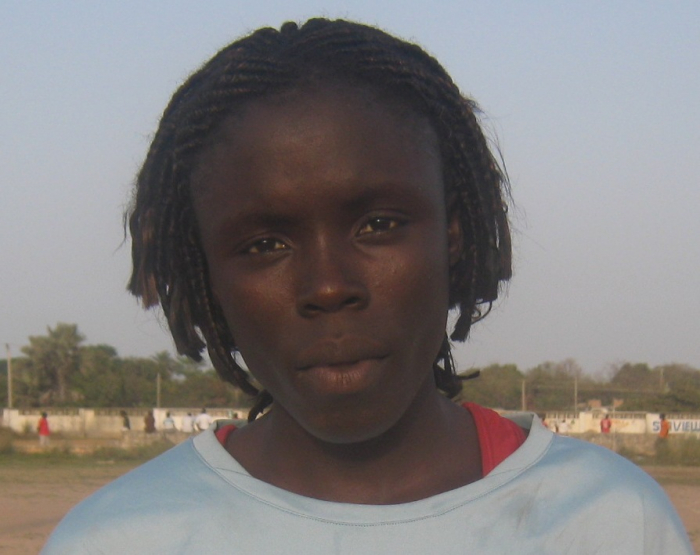 Awa Demba is undeniably among the most outstanding female footballers in the country.
The women national team striker, who has quickly established herself as a key figure with the Interior side, scoring the first goal of this campaign, is a household name in the country's top-flight female football.
The 17-year-old forward, who is also blessed with dribbling skills, as well as a finishing ability has quickly established herself as a key figure since her controversial move from Red Scorpion to Interior in 2005/06 season.
Born in Bakau, Demba fell in love with the beautiful game at a very tender age, prompting her to be involved in playing football with boys around town when she was still going to SOS school.
Demba started active football with Red Scorpion some years ago, where she has proven to be one of the fierce-looking hit women in the team.
"But before moving to Red Scorpion, Demba was an active member of SOS school team where she spent the better part of her life career since an unfortunate move to Children's Village, as an orphan immediately after she lost her mother during her delivery along with her twin brother, Adama Demba when they were both babies."
"It is hard to explain such an unfortunate scenario, but it made me even feel stronger after realising that my mother was no longer alive," Demba was quoted as saying by Pointsport, in an interview at the Independence Stadium during the opening game of 2009\10 GFA Division One Female League season, where her goal help Interior thrashed Company Ten 4-nil in the season's opener.
After a crazy year for the young lad, Demba moved to Interior, where she made an immediate impact as she quickly turned to be the club's 'goal machine' over the past few years.
Demba became Red Scorpion's top scorer in her first season, the club she joined since when she was a teenager, along with her sister Isatou Cham, who is now resident in the UK.
Demba netted nine times as Red Scorpion enjoyed a perfect start to 2003 GFA's Division One Women League season.
After a successful stint with Red Scorpion, Demba switched to Interior. She has since managed to re-establish herself as a deadly finisher.
Nicked named (Nistelrooy), Demba snatched the golden boot since her controversial switch to Interior in 3 consecutive league seasons away from her opponents, which earned her a place in the women's national team.
Demba scored a brace in Scorpions impressive 6-nil win over Ziguinchorr's selection in Cassamance in preparation for the WAFU tournament in Nigeria.
She is on the verge of receiving the golden boot winner award in the forthcoming sports journalists' award after netting 11 goals last season.
Read Other Articles In Article (Archive)