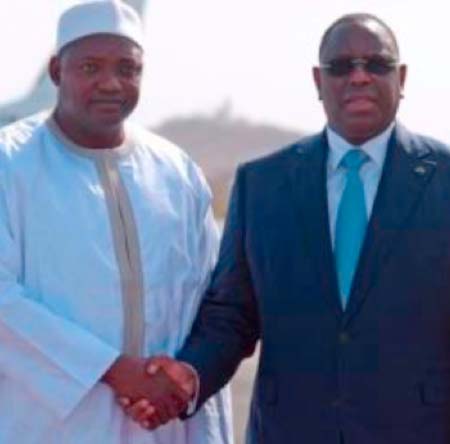 Senegal and The Gambia will convene "regular high-level meetings" between their leaders to give impetus to bilateral cooperation, Senegalese leader Macky Sall said in Dakar on Thursday.

"We will launch regular high-level meetings to follow up on issues discussed, review the joint projects and reduce any difficulties", Mr. Sall told a joint press conference held with his Gambian counterpart, a few hours after President Adama Barrow arrived in Dakar to begin a three-day official visit.
According to President Sall, "instructions have been issued to the ministers to avoid the burdens of protocol and work directly on issues of common interest."
To that end, the Senegalese presidency revealed that a series of agreements will be signed at the Presidential Palace in Dakar on Saturday, followed by the declaration of a joint communiqué.
The Senegalese leader said by making his first foreign trip abroad to Senegal, President Barrow "absolutely demonstrated the new state of mind" that the leaders of the two countries want to build.
"We are one family, divided between two states by the circumstances of colonization. We must constantly work together to overcome the obstacles in our way and pass on our common legacies to future generations", Sall added.
Elected on 1 December 2016 as Gambia's third president, Adama Barrow had to wait several weeks to succeed Yahya Jammeh, who refused to cede power.
Barrow had to take his oath of office at the Gambian Embassy in Senegal, before returning to Banjul after former President Jammeh was forced into exile by pressure from ECOWAS troops.
Barrow returned home on January 26.
Source: APA News
Read Other Articles In Article (Archive)