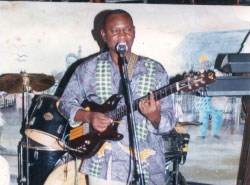 Alieu John has now become a regular feature in public discourse and has undoubtedly gone down the history books as far as African music is concerned.
Residing in the capital city of Banjul, the Senegalese born musician is a precocious artiste. Having released his first album in the country, Alieu John has increased his credit in the industry and among fans of African lyrics.
The album entitled Mbeymi was launched one year ago and His Excellency the President of the Republic of The Gambia was the chief guest of honour, including the Vice President and the Mayor of Banjul, Samba Faal.
Alieu John is increasingly getting many steps closer to the actualization of his dream of becoming a fully fledged music star and probably a Gambia-Senegal recipe to other musicians.
Speaking in an interview with The PointEntertainment on Monday at The Point's offices, Alieu John said he has been in The Gambia for six years, adding that he first started his music in Bamako, Mali, where he lived for good seven years and later proceeded to Burkina Faso, where he worked as a musician and compared notes with musicians.
"When I returned to Senegal I continued my music with my group," said the West African music star, who returned to The Gambia in 2006 to continue his music up to the time he formed his own band called Nbekteh.
John is calling on companies, individuals and other organizations to support him so that he can do more than what he is presently doing in the music industry.
He commended his Gambian wife Haddijatou Forbes-John and the people of Banjul for their support towards the launching of his first album in The Gambia.
He also thanked The Point's boss, Mr Pap Saine, as well as his fans for giving him the necessary support.
His band performs at Terrubi and Sunset Hotel every Wednesday to entertain guests.  Alieu John can be reached on 7749500 or 9091764.
Read Other Articles In Article (Archive)