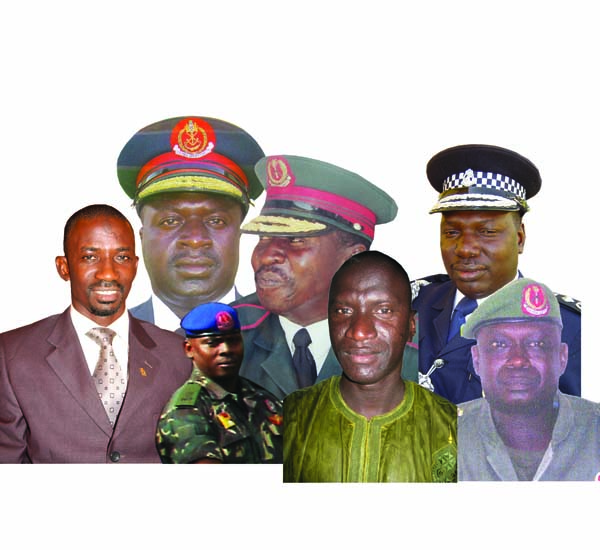 Case Continues Today
The trial commenced on Friday at the Banjul High Court of former senior military, police as well as two businessmen, charged with three counts of treason, amid tight security.
The accused persons are alleged to have conspired to stage a coup d' etat and overthrow the President and democratically-elected government of the Republic of The Gambia by force of arms.
All but two of the the accused persons were in court. Ndure Cham a former chief of defence staff and Omar Camara were said to be at large.
When the case was called, the Director of Public Prosecutions, Richard N. Chenge, informed the court that the state was setting aside the charges against Ndure Cham and Omar Camara until when they are arrested.
Lt. General Lang Tombong Tamba, Brigadier General Omar Bun Mbye, Major Lamin B.O. Badjie, Lt. Colonel Kawsu Camara, Modou Gaye former deputy Inspector General of Police, and Gibril Ngorr Secka were all in court without legal representation.
Lawyer Sheriff Tambedou represented Abdoulie Joof, while lawyer Hawa Sisay-Sabally represented Yousef Ezzideen.
When the case was called for plea-taking, the first accused person, Lang Tombong Tamba, urged the court to allow him and his co-accused time to consult with their lawyers for advice before plea-taking.
"Since our arrest, for over four months ago, we have not got access to our family members and lawyers," he told the court.
Lawyer Sheriff Tambedou told the court that anyone charged with a criminal offence shall be given enough time to prepare his defence. He quoted Section 24 subsection 3 (c) of the 1997 constitution to back up his argument.
Hawa Sisay Sabally elucidated that the charge is a serious one, which carries a death penalty or imprisonment for life.
Noting that the constitution has stipulated that there has to be a fair playing field, lawyer Sisay-Sabally told the court that "there should be prosecution and not persecution,"as enshrined in the constitution.
In response, the Director of Public Prosecutions, Richard N. Chenge, submitted that plea-taking and defence are two different things. He quoted Section 24 ?3 (e) of the constitution, to which the defence countered that his argument was not in line with the case in question.
However, the trial judge, Justice Emmanuel Amadi, ruled that they should take their pleas. He noted that their pleas "could be changed at anytime during the trial."
When the charges were read the accused persons all pleaded not guilty.
Major Lamin B.O. Badgie, former Director General at the National Intelligence Agency (NIA) said: "I am not guilty. I have never conspired with anybody to overthrow the Jammeh government."
Yousef Ezzideen, a Lebanese businessman, who was reportedly released and re-arrested, told the court that: "I don't even know why I am here, since I was just re-arrested last Thursday."
Meanwhile, Hawa Sisay-Sabally, counsel for Yousef Ezzideen, told the court that there is presumption of innocence until proven guilty. She informed the court that her client is very sick and is a "high-risk patient for cardiac arrest."
She submitted that his condition is deteriorating, and urged that his health be taken into consideration.
She applied for special treatment for her client, which the judge assured he would look into.
Lawyer Tambedou also submitted that all the accused persons should be allowed to have access to their counsel and immediate family members while remanded in custody.
At that juncture, Justice Amadi ruled that from now on the accused persons should be given access to their lawyers and immediate family members.
Justice Amadi also announced that the case would be heard on a daily basis, before adjourning the case to Monday 22nd March 2010.
Read Other Articles In Article (Archive)