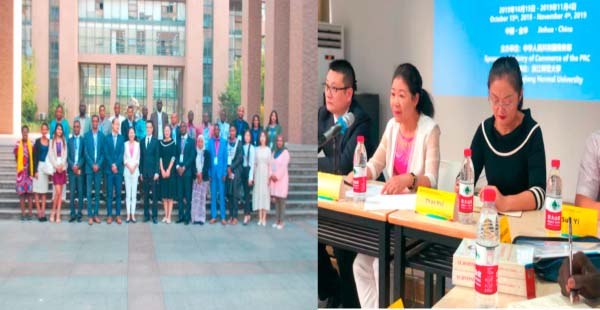 (Friday 18 October 2019 Issue)
The seminar on News Media for African Countries and African Union has opened at Zhejiang Normal University (ZJNU), Jinhua, China, on Tuesday.
The three weeks seminar is designed among other things to create a brief window of opportunity for media in African countries to have an insight into China's media and communication development and also enhance collaboration between China and Africa in the area of media development. It also allows the African media to have a glimpse of the contemporary Chinese mass media and social changes - the Chinese national realities and reforms opening up.
The seminar, being attended by 25 participants across Africa is facilitated by Zhejiang Normal University under the auspices of the Chinese Ministry of Commerce. It will expose participants to Chinese TV and Cultural Communication; Current Situation of China's New Media and Communication and Identity Building in Africa.
The main campus of Zhejiang Normal University is located at the cultural historical city of Jinhua in the central part of Zhejiang Province. The city links Shanghai and Hangzhou to the north, and Guangdong and Fujian provinces to the south.
Giving the historical background and evolution of ZJNU, Zhang Xiaozhen, the vice character of ZJNU, at the opening event, recalled that the university could be traced back to Hangzhou Junior Teacher's College, set up in 1956 before getting its university status in 1985.
"As one of the key provincial universities, ZJNU specialises in teacher education with multiple branches of learning," she said. "ZJNU has 19 colleges covering 73 undergraduate programmes, two postdoctoral programmes, eight doctoral degree programmes of Level 1 academic disciplines, 23 master's degree programmes of Level 1 academic disciplines and 13 professional master's degree programmes."
The university also makes strenuous efforts to open up its doors to the outside world, according to her, pointing out that ties of academic exchange and cooperation have been set up between ZJNU and over 140 foreign universities and institutes in nearly 60 countries including United States and Great Britain.
"It has been authorised to accept short-term and long-term international students by the Chinese government," she said, indicating that ZJNU is also the Education Aid Centre for Africa and Asia authorised by Ministry of Education.
She finally revealed that African student body forms 30% of the total number of international students enrolled at ZJNU.
Jonathan Hindolo Kurabu, a participant from Sierra Leone, who spoke on behalf of the participants, talked about the good relationship between his country and China. He expressed optimism that the seminar would enable participants to learn new things about the Chinese media and communication, saying he believes it would help strengthen China-Africa relations.
Read Other Articles In Article (Archive)