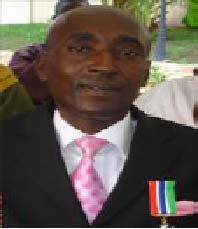 Justice Moses Richards of the Special Criminal Court Division of the High Court yesterday convicted and sentenced one Basiru Baldeh to 12 years in prison with hard labour for the offence of manslaughter.
According to the charge sheet, on 2oth October 2008, at Anglan Futer in Basse, the convict Basiru Baldeh caused the death of one Babucarr Jallow, by hitting him with a hard object.
The convict when asked whether he has anything to tell the court said the incident was between him and his brother. He said it was not his intention to cause the death of his brother.
In her plea of mitigation on behalf of the convict, Defence Counsel Amie Joof-Conteh urged the court to impose a lesser sentence on the convict as he had never done anything culpable. She said the convict is a professional tailor who takes care of his family.
According to her, being a court of passion and sympathy, she would urge the court to take a closer look at the convict who was remorseful of what had happened. She added that it was unfortunate that the deceased was his elder brother of the same mother.
Lawyer Joof-Conteh further adduced that, the family of the convict  had said that they have lose one and did not want to loose  another, according to  one of the prosecution witnesses.
Following his own plea of guilt, he was accordingly convicted and sentenced.
Read Other Articles In Article (Archive)