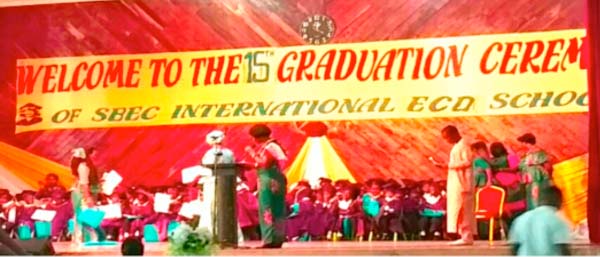 SBEC International School on Saturday held a graduation ceremony of 68 pupils from the Early Childhood Development (ECD) and Arabic sections of the school.

The 15th annual graduation ceremony held at their High School Auditorium in Salagi was organised under the theme ''We Are What We Eat''.
The proprietor of SBEC International, Ayesha Njie Nyang, in a sideline interview said they are always honoured and delighted to have a graduating class annually.
''After 16 years of operation we feel really honoured and delighted to be having a graduating class year in and year out," she said.
She added that it was a great achievement for her to see the pupil's progress from one stage to another.
''it is really a great self-fulfillment to see these students graduate from the ECD to the other levels,'' he noted.
Mrs Nyang noted that SBEC International is unique because of its quality and the standard of education it seeks to provide across The Gambia.
''SBEC is bilingual, one section of the school is English/French, and the other section of the school is English/Arabic. We moved from the ECD to the Primary and High School Level''.
Mrs Nyang also revealed that they have plans to set up a university in The Gambia in the near future.
"We plan to set up a university. We intend to have the first university that offers multi-languages. We already have a college; the campus is not yet ready. From the college, the plan is to move to university because we want to do it gradually," she said.
She expressed gratitude and thanks to their devoted partners, parents and teachers and government for their continuous support and cooperation.
Ms Yassin Ndure, Head of ECD Section at SBEC International, said the school doesn't only guarantee quality education but also offers a wide range of extracurricular activities to engage their pupils during their academic work.
''SBEC is not only about academics. Our Fridays have been put aside to accommodate extracurricular activities, ranging from swimming, football, music, martial arts to the newly-introduced choreography".
Through these various skills, they are able to keep the bodies of their children healthy, strong and alert, with consciousness of proper nutrition which is also provided at SBEC international School, she said.
She expressed appreciation and gratitude to their teachers and parents for their loyalty and commitment to the welfare of the school.
Mrs Ndure concluded by congratulating the students and urged them to maintain the momentum in their academic endeavors.
Among the people who graced the occasion were the permanent secretary, Ministry of Agriculture, Mrs Adama Ngum, the Ambassador of Guinea Conakry, Ibrahima Youla, Governor of West Coast Region, Ebrima Mballow, parents, guardians and well wishers.
Read Other Articles In Article (Archive)