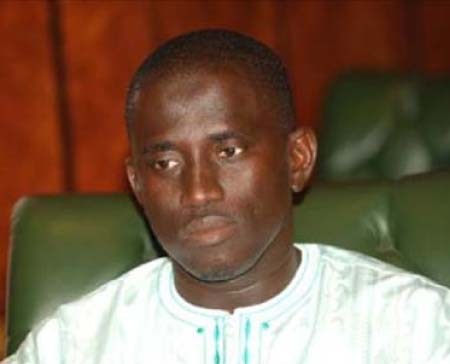 The trial of the former secretary general and Minister for Presidential Affairs, Momodou Sabally, accused of abuse of office, was yesterday adjourned until 23 June 2015, before Magistrate M.S. Jallow of the Banjul Magistrates' Court.
The case was not called in court due to the official engagement of the trial magistrate MS Jallow, who was said to have attended a meeting.
The prosecutors, in the new charge, stated that Momodou Sabally, on 4 June 2014 whilst serving as the Secretary General at the Office of the President and Minister for Presidential Affairs, gave directives to Kebba S. Touray, Minister of Finance and Economic Affairs, to enter into an agreement on behalf of the Gambian government with the West Port Logistics Ltd, without approval, and thereby committed an offence.
Sabally denied any wrongdoing.
Senior counsel Gaye then made an application on behalf the accused to be admitted to bail, adding that abuse of office is a bailable offence and the accused person is currently facing a similar charge at the High Court, where bail was granted to him.
He added that his bail came with conditions, which were fulfilled.
The defence counsel said the accused is a Gambian with a family, and the issue of him leaving the country was out of the question.
He added that the accused person has willing sureties who are ready to bail him.
"I urge the court to exercise its discretion and admit bail to the accused person," said counsel.
The prosecutor objected to the application. They were not disputing the fact that the accused person was standing trial at the High Court, hence they would not dwell on that.
He added that investigations into the matter are still ongoing, and the prosecution believed if bail was granted to the accused person he could tamper with the prosecution witnesses, since most of the potential witnesses are people he worked with.
He added that the accused might take the privilege of once being the Secretary General and Minister for Presidential Affairs to influence them.
"Bail is discretionary and I urge the court to discharge its discretion for the accused to remain in custody," police prosecutor Inspector Manga said.
Counsel Gaye in reply said the principle was clear: "You cannot arrest somebody, detain and charge him with an offence, and further tell the court: 'Please remand him whilst I carry on with my investigation.'"
He added that the prosecution had no discretion since the matter had been brought to court.
He could have objected to the charge, as it did not have the consent of the Attorney General, counsel added.
However, the court ruled in favour of the prosecution.
The counsel had not made a strong defence on the prosecution's claim that the accused if given bail could tamper with potential witnesses.
The accused person should remain in custody, the magistrate said.
Read Other Articles In Article (Archive)