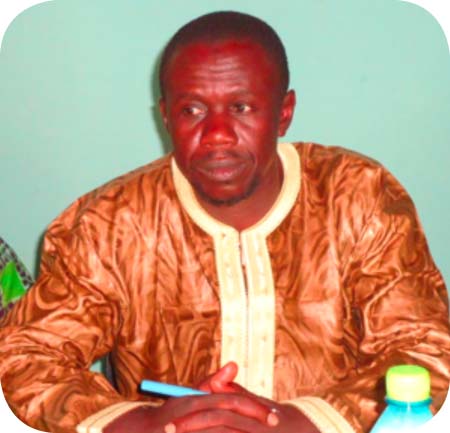 The permanent secretary 1 at the Ministry of Agriculture, Ousman Jammeh, has challenged the Agricultural Workers Association Co-operative Credit Union (AWACCU) to change attitude towards the development of agriculture, and endeavour to emulate GTUCCU – the Gambia teachers' credit union.
He said by now AWACCU would have gone beyond where it is today, but due to lack of a collective effort, it was still lagging behind compared to other credit unions like GTUCCU and the police credit union.
PS Jammeh was delivering a statement on the 3rd Annual General Meeting of AWACCU, held at the weekend at the Wellingara Horticulture Model Centre.
According to him, GTUCCU learned from AWACCU in the past, but now GTUCCU has surpassed AWACCU due to members' commitment, devotion and sacrifice to their credit union.
He emphasised that AWACCU had been around for decades now, yet it is still lagging behind, adding that the achievement of AWACCU of D4 million was"a drop in the ocean" considering that the number of workers within the Ministry of Agriculture has gone more than five hundred staff.
He said AWACCU should endeavour to tighten their belt more to their work, and suggested a permanent staff that would focus mainly on AWACCU.
PS Jammeh encouraged all AWACCU members to do their best to emulate the GTUCCU.
"Let us do what they are doing and we emulate them. They emulated us in the past, and they have succeeded," he stated.
"If you look at the teachers' credit union and the police credit union, you would see that they have gone beyond expectations," he said, adding that the secret is nothing but commitment and willingness to take over some other members.
"I will also encourage every one of you to ensure that you register with the credit union, so that we can able to gather more funds," PS Jammeh further stated.
The main objective of the credit union is to promote and support development of a viable credit union; to develop and make available the best financial and non-financial services to the members at a reasonable cost, and to also maintain the long-term viability of the association through a self-sustaining strategy, he added.
"We would like to combat poverty through the philosophy and principle of credit union, and preserve the reputation of AWACCU as a model financial cooperative," he said.
He commended all AWACCU members for contributing in one way or the other to the success of the association, adding that they all participated in the formation of the association and needed to redouble their efforts for the welfare of its members.
This, he said, could only be done through commitment, hard work and devotion to ensure better service delivery in the association. 
Read Other Articles In Article (Archive)