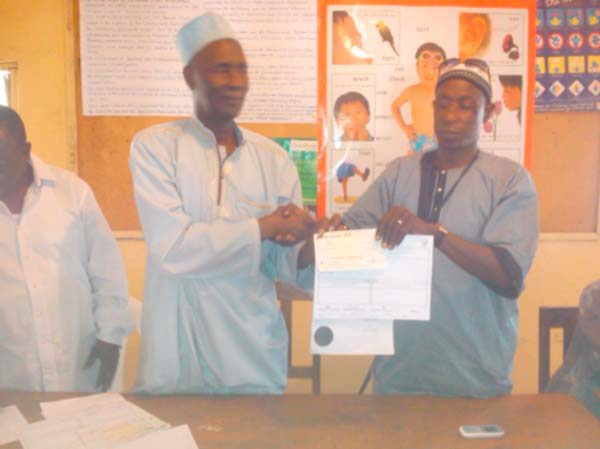 Saamasang Federation, a Child-Fund Community-based organization operating in the Kombo Central District, 1 February 2016 presented D50,000 to ten School Mother's Clubs at a ceremony held at the Saamasang Federation's Office in Kabafita.
Speaking at the handing-over ceremony, Edrissa Cham, manager of Saamasang Federation, said the endowment is to support the establishment and functions of the respective Mother's Clubs to ensure the day-to-day activities of the children at the schools.
''It also aims to encourage children to attend their classes without any predicament so that they can concentrate fully in their schooling,'' he said.
Cham further told the gathering that the federation had also trained the mother's clubs management on leadership skills and resource mobilization, to help them generate more funds even without the intervention of Saamasang.
He urged them to work in partnership and also submit their work plans and reports to the federation.
He tasked the Mother's Clubs to maintain proper coordination of the activities of the children at schools and to support the needy ones whose families cannot afford their school bills.
The federation, he noted, would not want to see any children sent home for lack of basic learning materials.
The establishment of child friendly schools or mother's clubs, he emphasized, is spelt out as an intervention and as highlighted in the 2004-2015 Education Policy objectives it is also paramount.
Jim Jeng, Senior Education Officer for Planning, who also doubles as the Focal Person for Mother's Clubs in the West Coast Region, said the "support to the Mother's Clubs is indeed timely and essential as the gesture from Saamasang is in line with an MOU between Saamasang and MoBSE".
''Saamasang made a commitment that it would establish mother's clubs in the Kombo Central District and would help them register with the AG Chambers, trained members of the clubs and give a seed money of D500 to each school which today we are all witnessing,'' he said.
The support, according to him, is geared towards helping the respective established mother's clubs in their income-generating activities.
The generated income, he added, should be used to assist poor and vulnerable children in the schools with educational and learning materials as well as encourage parents to participate fully in the education of their kids.
Fabakary Fadera, Federation accountant, advised the beneficiaries to properly manage the money emphasizing that it should be used for the right purpose.
''Saamasang always values its partners at grassroots level and would continue working with them to improve life in the communities,'' he said.
Fatou Bessie-Njie, Kalilu Colley, Isatou Colley and Desmond M. Jawara, all beneficiaries, lauded the donors for their humanitarian gesture saying the monies will be used prudently.
The beneficiary schools are Nema Taba LBS, Kembujeh LBS, Bakary Sambouya LBS, Penyem ECD & LBS, Jalangba LBS, Darsilami Community ECD, Presentation Basic Cycle, Saamasang Senior Secondary Technical School and Marakissa LBS. 
Read Other Articles In Article (Archive)