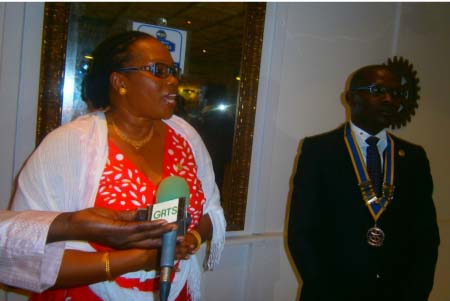 A new executive committee for Rotary Club of Fajara has been installed over the weekend.
The committee, headed by Ebrima Touray as the newly elected president, is given the mantle of leadership to steer the affairs of the club for the year 2015/2016.
They took over from the 2014/2015 executive committee which was led by Adam Wadda as president.
Speaking on the occasion, Mrs Wadda, said: "Today I officially hand over what has been a very exciting journey for somebody else to continue.
"I want to seize this opportunity thank the whole team [the entire executive committee], for the journey has not been easy but it was a worthwhile venture.The team members have shown dedication and commitment and sacrifice through using our own resources to serve the people.
"My tenure was a very exciting – it was a very exciting year for my team and for all Rotarian, especially Rotary Club of Fajara which has been always at the forefront.
"I remember during the beginning of my rotary year and during my induction, there were few things I highlighted that I wanted to do, together with my executive.One of them was to increase our membership; the other was, we wanted to have more projects and the third one was our peer role in the community – how well people know rotary, what impact can we have and how can we engage our community.These are all things that were important to me and my executive and today, we can say we have achieved a lot in these areas."
Mrs Wadda said it was a very tough road for her and her team to register such achievements but "finally we did".
"But it showed that we were all strong individuals.It was a collective work with all the executive committee as no individual can do it all," she said.
The outgoing president advised the new president "to take up the challenge" as it is not easy; it is but with team work they can live up to expectations.
Newly-elected president Ebrima Touray said: "I accept with pride to be the president of the Rotarian Club of Fajara.I will work with my team to make you proud to have elected me."
He hailed the outgoing president for "her excellent leadership, great enthusiasm and hard work" for the club over the past year.
Read Other Articles In Article (Archive)