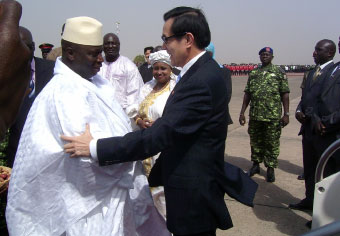 The President of the ROC (Taiwan) Ma Ying-jeou arrived in The Gambia yesterday with a high-powered delegation amidst a rousing welcome.
He was met at the foot of the China Airlines aircraft at Banjul International Airrport by President Yahya Jammeh at exactly 15:38 pm local time.
Those present at the airport to receive President Ma and delegation included the Vice President, Speaker of the National Assembly, Chief Justice, cabinet ministers, and heads of international organizations, local chiefs,members of Taiwan AlumniAssociation and cultural troupes.
"Welcome to The Gambia," said President Jammeh, as he embraced President Ma, who also smiled back at him.
After the airport welcome ceremonies, the visiting head of state and his host President Jammeh drove through the streets of Lamin, Abuko, Tallinding,West Field, Kairaba Avenue and Bertil Harding highway to Coco Ocean Resort and Spa, where he was installed.
President Ma was dressed in a black suit, while his host wore his usual white attire, and both waved at people lining the route from the airport all the way to the hotel.
President Ma is on a four-day visit to the Republic of The Gambia, from April 11 to 14, 2012.
The state visit forms part of his 12-day tour of Africa, and aims to bolster mutual understanding and strengthen relations between the ROC and her allied nations.
The officials accompanying President Ma for the trip include presidential office adviser Mr. Chan Chi-shean, National Security Council Secretary-General Mr. Hu Wei-chen, Foreign Affairs Minister H.E. Timothy C.T. Yang, Council of Labor Affairs Minister Ms Wang Ju-hsuan and related government officials and representatives such as former Taiwanese ambassador to The Gambia Richard Shih.
President Ma is travelling with a high-powered delegation of 150 officials including over 30 journalists from the print and electronic media, among them nine TV stations.
During his visit, President Ma is expected to sign a joint communiqué with President YahyaJammeh.
President Ma will also inspect the implementation of the bilateral cooperation projects, including the hospitals operated with the aid of the ROC medical teams and agricultural technology projects.
He was last night hosted to a state banquet at the Kairaba Beach Hotel by President Jammeh.
President Ma will today visit the Banjulinging Women's Garden and National Research Institute (NARI), and then spend the night in Kanilai.
Relations between The Gambia and the ROC have been described as cordial, following the resumption of diplomatic ties in 1995.
Since then key sectors of the Gambian economy such as education, health, agriculture and infrastructure have been supported by the ROC.
Read Other Articles In Article (Archive)