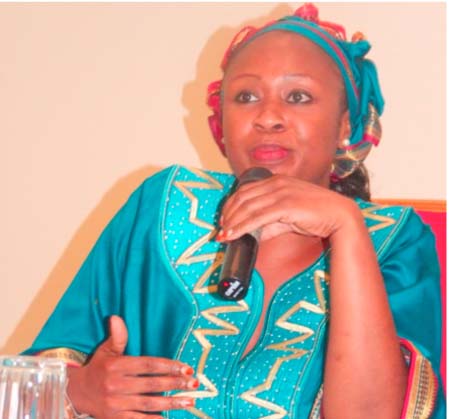 The Attorney General and Minister of Justice, Mama Fatima Singhateh, has advised the newly-enrolled lawyers to the bar to represent their clients "with honesty and integrity".

She urged them never to abandon or leave their clients stranded, no matter how tough the situation is in the court, because they are counting on them as legal practitioners.
The Justice Minister made these remarks yesterday at the enrolment ceremony of 33 lawyers to the bar, held at the superior courts complex in Banjul.
"As minister in the temple of justice, which requires you to show respect and courtesy at all times to protect the dignity of the court and the person of the judge, offer your legal expertise so that the time of the court is not wasted," the Justice Minister advised the new entrants to the bar.
She also advised them to show professional courtesy, and as representatives of the justice for which they are instructed to stand and advocate.
Justice minister Singhateh congratulated the newly-enrolled lawyers, saying that passing to the bar was a great achievement worthy of commendation.
Also speaking on the occasion was the Gambia's Chief Justice, Justice Emmanuel Fangbele, who commended the lecturers who took their time to groom and teach the new lawyers.
Chief Justice Fangbele further said only God would reward the lecturers, while he equally thanked the parents for supporting and believing in their children.
The former president of the Gambia Bar Association, lawyer Sheriff Marie Tambedou, delivering a speech on behalf of the president of the Bar Association, said the profession and practice of law is a continuous learning process.
He said the education of the newly-enrolled lawyers has just begun, and the best way for them to learn is to be hardworking, courteous, patient and respectful.
"Respect your seniors at the bar, but most importantly show respect to the bench. Do not hesitate to ask, consult, or seek advice. Prepare well before any assignment that you undertake," advised lawyer Tambedou.
In his welcome remarks, the Judicial Secretary, Landing Sanneh, said enrolment is a special and privileged moment in the life of any new lawyer.
He congratulated them, saying that on this special day they must pay tribute to their families and mentors, and show appreciation for the support and love extended to them during their long and tedious years of studies.
The Judicial Secretary further said the enrolment ceremony meant once the new lawyers were enrolled, they would appear and have a right of audience before any court in The Gambia, and be called barristers and solicitors of the Supreme Court of The Gambia.
The ceremony saw the presentation of certificates and administration of oaths to the newly-enrolled lawyers by the acting secretary of the General Legal Council, Aji Adam Ceesay.
Read Other Articles In Article (Archive)