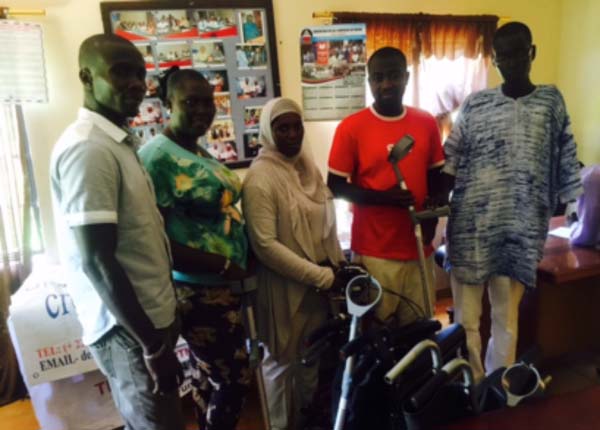 Farm for Life, a UK charitable organisation through Sam Saidykhan, a Gambian philanthropist residing in the United Kingdom, on 6 October 2016 donated 2 wheelchairs and crotches to the Gambia Federation of the Disabled.

Speaking at the handing-over ceremony held at GFD Office, Ebrima Dibbasey, Executive Director of GFD, expressed delight and appreciation about the gesture.
He said some of their educational opportunities are denied them due to lack of materials such as wheelchairs, crotches, walking canes, and other essential items.
They therefore called on others to emulate Mr Saidykhan in supporting them.
Demand for these materials is at a high level, he said, adding that "government through their rehabilitation centre at Social Welfare is doing a lot but cannot do it all".
People with disabilities have skills and knowledge and they want to ensure they are able to effectively and efficiently contribute their quota to national development.
To be able to do that they need to be supported in all their endeavours, he added.
He said the materials would be given only to the right people who deserve to have them.
Lamin Dibba, Secretary General of GFD, said they are always open to good gestures in the service of people with disabilities.
The disabled in the provinces are in dire need of such materials, he said, adding: "No one knows what the future holds and as such people should support those with disabilities because any one can become a victim."
Natoma Camara, Mistress of GOVI Resource Centre for Children with Low Vision, for her part, thanked the donor.
Sam Saidykhan, in his remarks, said they hope to bring more materials that would include wheelchairs, crotches and items like books, beds, other furniture and educational materials that will be of use to the disabled.
Banna Badjie, assistant Rates Manager at KMC, also thanked Mr Saidykhan and urged other Gambians in the diaspora to emulate him.
Read Other Articles In Article (Archive)