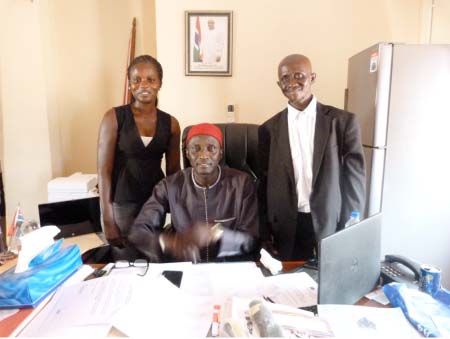 The idea to adopt regional representatives for Copyright Office of The Gambia has been greeted with excitement, appreciation and commendation for what many described as long over-due. Cognizant of current affairs tenable on matters of intellectual property (IP) Laws, especially Copyright and Related Rights Laws, the office ought to have been established a long time ago.

The reception, reaction and response from most regional authorities affirmed the level of their appreciation and understanding about the important role played by intellectual property laws as Copyright Law. This is geared towards achieving the desired sustainable development objectives of any given country, including The Gambia, through promotion of creative, artistic and cultural industries mainly described as engine of growth for countries across the globe, both developed and developing countries.
Such high level appreciation, understanding, inspirational commendation and guide were not limited to Ebrima K.S. Dampha, governor for North Bank Region of The Gambia, who gave assurances of an open, smooth working relationship and cooperation of his office with Copyright Office of The Gambia at all times.
The adoption and signing of memorandum of understanding between regional representatives and Copyright Office, began in Banjul to Kanifing Municipal Council, West Coast, North Bank, Lower River, Central River and Upper River regions.
The exercise is premised among others to have the representatives as focal point of contact for their regions in all activities to be embarked on by the Copyright Office. Their activities inter alia shall be responsibility for organisation/mobilisation of participants for awareness campaign, registration of all folklore and cultural expressions within their jurisdictions, training/ capacity building programmes, competition/ contest, award related activities in their respective regions and any other assignment deemed fit and necessary for smooth and proper operations of the Copyright Office.
The rationale behind the MOU is not limited to the following; awareness of the importance of intellectual property (IP) law, especially Copyright and Related Rights dealing with legal rights of cultural players, artistic and creative industries. This is aimed towards sustainable development of any given nation across the globe, including developing countries like The Gambia.
Awareness of objectives of intellectual property law, especially Copyright Related Rights are not limited to protection and promotion of economic development through industrialization, but also provides strong incentive for investment in research and development resulting in innovation, industrial growth and economic progress of the nation, thus the benefits of IP system or regime could be fully utilized only by countries equipped with trained scientific and technical personnel equipped with adequate basic industrial infrastructure.
Read Other Articles In Article (Archive)