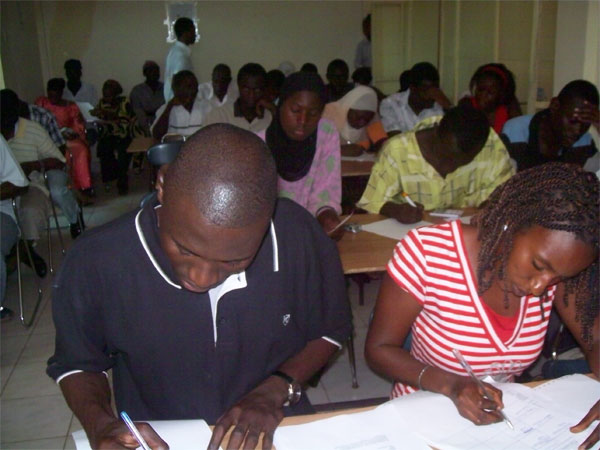 There are institutions at work but the society seems no to notice except those they affect directly, example, their students, employees and those they work with. Institute of Professional Administration and Management and its numerous students have proved by the action and determination of the students that they are a force to recon with. In a random sampling of each class, the students have demonstrated their determination to bringing their institution to its highest point. With their trust in their highly professional lecturers, their big courses in Law, Business Studies, Human Resource Management, Marketing Management and more would continue to flourish to higher heights. Augustine Kanjia spoke with some of the ongoing students who are bent on scoring the best results like those who have passed through the institution.
Talking to Tourism students in a full to capacity class, Sarjo Jammeh said IPAM is a good institution with excellent lecturers and very good management. She praised their interactions and said it was "good" different from others. Students do not just sit to rejoice if a lecturer is not there, "we go to look for them." Sarjo says, "If you go to a lot of working places you will see our products and are doing quite well in big jobs." Asking the class about their expectation, Alhajie Barry, a Sierra Leonean Tourism student says, "Because of its international credibility, I joined IPAM. Getting a certificate in this institution will go a long way in and out of the country. I expect to have a place in society after my studies and be a more useful citizen when I return home. Mr. Barry, a lecturer in Tourism said, he came as a student but today he is a lecturer. "My country and others have tourism potentials but governments do not concentrate on tourism but natural resources. You can smuggle diamond and gold and not beaches and tourism. I am appealing to governments to invest more in the tourism area. Tourism contributes about 16% of the Gambia's GDP. Despite threats Princess Tarawally, the institution's secretary reiterated her view on the development taking place compared to its early beginning to when it came under the present administration under Mr. Forna. "The students have increased, lecturers are excellent and different programmes have been introduced to meet the needs of the society. There are more devoted and hardworking lecturers. I advise parents to send their children to IPAM and for the elderly to come and see that IPAM is good." She said.
There are different students from different work of life as in the case of Ceesay Mendy, a female worker at Gamcel studying Management this is her experience studying at IPAM. She says, "It is interesting at IPAM. I had attended other institutions and I can now rate IPAM as high with willing teachers. It is IPAM that I see teachers following students to study the lecturers are always punctual. We also have social outings that encourage students to leave their academic work to refresh themselves. The teachers know their field. I will surely recommend IPAM to more people. We have exams and imagine this teacher is taking me remedial classes on free basis and other teachers too do it on free basis. The principal is always checking on teachers and goes an extra mile to call teachers on his phone if they are not in school this is important. I find the place interesting and I will encourage others to come and learn and acquire knowledge.
The Law students were no less quiet and added their voices to the others who had spoken. Speaking to the students Abdul Karim Koroma, a Sierra Leonean law student says, "Truly speaking IPAM is the best institution. We are doing 'A' level law and our lecturer is taking us above normal. In terms of results we are always scoring A, B comparing it with other institutions. It is a place of excellence in terms of appraisal. It is a fruitful place for us parents should send their children there. In the long run we shall have good jobs in society in our future careers.
Omar Susso, another A Level law student added his voice to the debate and said he wants to tell those who want to study law, that IPAM is the best. "Our lecturer is a brother us, he is always ready to give us his best in terms f education. He always motivates us, come and study with us your bench is waiting for you." Susso said.
Another female law student known as Mam Tut Waddy, said IPAM is the best institution in The Gambia. "The principal is brotherly and takes us as his. IPAM is offering a lot. Even if you go to the University it's the same we are doing. We are doing it for our nation. "We are the future generation" we should show our parents we are. We are saying thanks to IPAM and our principal, Mr. Mohamed Forna for his hard work.
Among the Human Resource Management students, Alikali Kamara said they were realizing their vision as they are going to their advance stage. We have got very broad training and we now see the course as simple." He quoted on adaptability of human beings and said they are getting what they want. Essa Conteh of the same class said he realized that IPAM is an excellent place to be, heaping up lots of praises for their lecturers. I appeal to all Gambians to come and realize President Jammeh's Vision 2020.
ABE Diploma 1 students were in a high gear even when their lecturer was not present, they were bold to do micro teaching and the journalist mistook a student teaching others as if he was the teacher. Lamin S. Kuyateh in action said their course had earlier encompassed a lot of courses. IPAM is offering what we want to be in the future. George Gomez said he has been transformed from being science student to commercial field. IPAM has changed my course for the better. I was given the chance and encouraged to do well. Let others come and be part of the change that IPAM provides. "We don't come to fashion, we don't come to show but to learn and the competition lies in the brain. He thanked all the lecturers with special thanks to their principal. Teachers run after students for help which is the opposite in many other institutions.
Advanced Diploma in Marketing Management Class were enthusiastic in talking to the journalist and Modou Ceesay said he came to IPAM with only WASSCE certificate with an IT, I came to pursue a career starting with a diploma to this stage. I have achieved something I can now go to any institution and execute my duty well. I have learnt a lot including customer service, buyer behaviour and management theory. "I can say that we are all expected to be managers tomorrow, it is a good studying point for all. I will never regret being here."
Mr. Susso of the same class working at GAMCEL says, "I am impressed about IPAM. I started here from the foundation stage in 2006, up to the Advanced Diploma. I was sent to Ghana by my office on a two weeks programme in administration. I met what I was taught and was quite bright in our class among other novices from other countries. The lecturers asked if I have done the course before. When I told them I was doing the course at IPAM they implored on me to continue with them, the signs are good. "I then realized that IPAM is good. With my results from IPAM, my office is always impressed, thank God.
Tida Ndure, working at GPA as a revenue controller said all have their vision in life. IPAM is a learning place I have a lot of experience and I am working assiduously to meet my target. My work requires dealing with a lot of people from different backgrounds, cultures, and attitudes. With the course I know how to deal with my external and internal customers which is a bigger challenge. IPAM is preparing me to face this challenge.
In a combined Business class, International Business Communication Ansu A. Sonko a Police officer of the Human Development class, classed IPAM as the best with determined students and lecturers. "I am encouraging all my friends to come and learn something form IPAM." He said their code of dressing is the best as students. "Appearance matters a lot." He said.
Sheriffo Daffeh another police officer said he has always been happy at IPAM. "Infact it is in line with our Human Resource Department at the police. My knowledge here will help the police, the community and myself. Mr. Forna, the principal is concerned about the students and lecturers. The administration has the empathy for students' fees. The class size is attractive which attracts students." He said.
James Mendy of SSHFC said before coming to IPAM he investigated from several institutions first and made the right choice. He said his study is in line with his portfolio at work.
Mohamed A. Bangura said trying to study on a meager teacher's salary has not been easy with the time frame. "But the administration gives us time to meet up with the constraints, they are understandable." I am hoping to meet my people after the course in development and continue to contribute after the training. I can recommend IPAM proudly to others because the course will make an individual useful in society and meet your financial obligations. People are talking highly about IPAM in USA, England and elsewhere especially those who attended it. Mr. Ibrahim Sesay said a friend of his returned with a qualification from IPAM and today he is employed and doing fine at home. "We want to thank Mr. Forna for his hard work. As the intake is in progress, all should take the advantage and be part of this elevating experience." Thank you. He said.
Read Other Articles In Article (Archive)