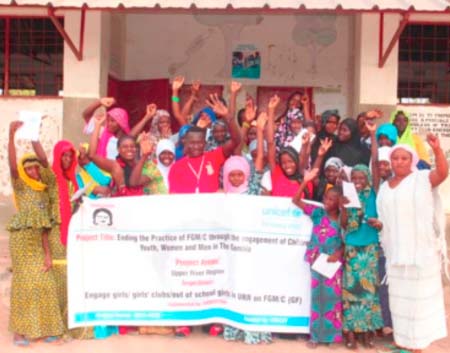 Gambia Committee on Harmful Traditional Practices Affecting the Health of Women and Girls (GAMCOTRP) has sensitized out of school and uneducated girls on Female Genital Mutilation (FGM), child marriage and child rights and protection.

The sensitisations were held at Missira -Ba Mariama and Koina villages in Kantora District and Baja Kunda in Wuli East District in the Upper River Region (URR) on February 21, 22 and 23. It was funded by UNICEF.
A total of 30 out of school and uneducated girls were sensitised with the aim of enlightening the youngsters the health consequences on FGM, teenage pregnancy and alos on child marriage and child rights and protection.
Fatou Bojang, GAMCOTRAP field coordinator described the forum as significant in raising the participants' awareness on the health effects of the harmful traditional practices, child rights as well as importance of education.
The women rights activist said the sensitisation happens after a research was conducted by UNICEF that showed that the number of school dropouts and illiterate girls is very high in the Kantora district.
"Therefore, we deemed it necessary to sensitize you on the importance of education as it will enlighten you on the health effects of FGM, teenage pregnancy and child marriage," she said.
Madam Bojang said the project will also help the school dropout girls to continue their education, saying they have the right to education and free from all forms of health complications, violence and discrimination.
On FGM
"FGM has severe health complications to girls and women. And many women had experienced rigorous pain during birth period as a result of the female circumcision," she said.
She revealed that many women are infected with fistula (female reproductive organs' infection) due to FGM, adding that some young ladies as well have other reproductive health effects that are cause by child marriage.
The women's rights activist enjoined the young girls to desist from all forms of harmful practices in order to maintain their good health.
Ebrima Jassey, social welfare officer said every child has the right to education, health, access to national documents among others but he was quick to add that the children have the responsibility to go school regularly.
He said no person has the right to engage teenagers in any form of marriage. And if anyone is culpable will face legal consequences. "It is collectively responsible to ensure the children are protected from all forms of risk and harassment," he said.
According to him, research has revealed that the Central River and Upper River Regions are the most vulnerable regions to FGM, child marriage and teenage pregnancy. He added that many natives of these regions often drop their girls from school for marriage.
"Child labour is unacceptable in The Gambia and no one should practice it. Children should only engage on light works that will not harm them. But all hazardous work such as working in a chemical producing factory is unlawful," he said.
Bintou Bokum, participants expressed gratitude to the feminize organisation for raising their (participants) awareness on the health effects of FGM, child marriage, child rights and protection.
"I have learned many things that I never knew before and this training will help me and the entire participants a lot," she said.
Salimatou Baldeh, another participant also commended GAMCOTRAP for the sensitisation. She recommended the organisation to organize similar training for their (participants) parents so that they will understand the health effects of FGM and other related issues.
Read Other Articles In Article (Archive)