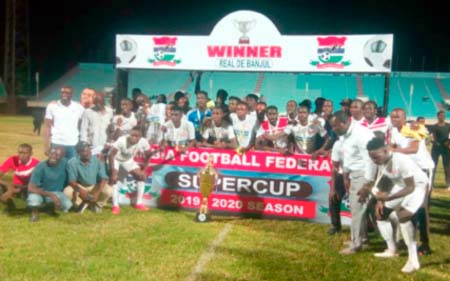 Last year's FA cup winners, Real de Banjul has won the GFF Super Cup curtain raiser final after defeating the last year's GFF League winners, Brikama 1-0 in a game played at the Independence Stadium in Bakau.

Abdoulie Bah scored the only goal in the match in the early 5 minutes of the game to give Real de Banjul and its new gaffer their first trophy ahead of the new campaign.
The Sateyba boys, who made a fine performance looking for a response during the game tried but could not find the back of their opponents' net.
The City boys also created couple of chances but could not add another goal to the earlier goal scored, making them to defend so hard for their goal.
Speaking in an interview with reporters shortly after the game, the head coach of Real de Banjul, Ebou Jarra said he is overwhelmed not by the victory but the support of their families as a whole.
"Is not only about the money that is injected, but also support given to us by our families such as our wives, parents and friends," he said.
He added that this is a cup game in which as coaches, they follow in the philosophies of others because it is a learning process. "I always tell my players that in any cup competition, even if half a goal can give you the trophy or get you through to the next stage, go for it," he said.
He said one can only win where they compete but, noting that it doesn't mean that you will win the competition.
"You can only win where you compete but that does not mean that you will win it, but you can be in a competition and I don't think you can make it. So that's what we are looking forward to this season," he said.
The new Real de Banjul coach said he is happy with the squad he has so far, adding that if everything continues like this, then they can be a title contender.
Modou Lamin Nyassi, head coach of Brikama United said it not a bad game despite been defeated by Real de Banjul in the final, while congratulating them for their victory.
"This is the cup I definitely want to win because it is the only cup that Brikama United is yet to win but we are contend and we still going to fight for it next time," he said.
As winners, Real de Banjul awarded gold medals, giant trophy and a cash prize of D75, 000, while Brikama United pocketed a consolation prize of D50, 000.
Read Other Articles In Article (Archive)