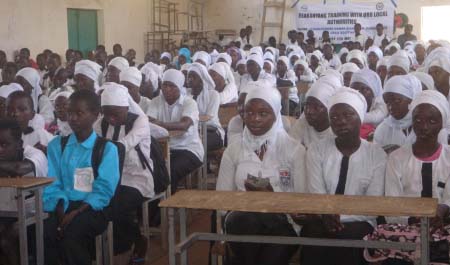 Beakanyang Kafo, a community-based organization in the country, on 10 December 2013 celebrated the International Human Rights Day at Nyakoi Upper Basic and Senior Secondary School in the Wuli West District, Upper River Region.
The celebration was done in a symposium that deliberated on Beakanyang's theme for 2013: 'End early and forced marriages in Wuli'.
Speaking on the occasion attended by over 200 students and teachers, the board chairman of the group, Yahya Sumareh, said the theme chosen by the organization was fitting and timely.
He urged students in the school to take their education seriously and to say no to child marriage, if they want to achieve their dreams.
For his part, the vice principal of Nyakoi Upper Basic and Senior Secondary School, Nyonkoling Touray, in declaring the forum open on behalf of the regional education director, commended Beakanyang for chosen the school for their celebration.
According to him, the topic of the celebration was very important, especially that the issue of early marriage is very common in the area.
The school like many other provincial schools is affected by child marriage, he lamented, while calling for concerted efforts to address the future-threatening phenomenon.
Speaking on the topic, "end early and forced marriages in Wuli", Nfamara Jawneh, secretary general of Beakanyang, said International Human Rights Day is observed by the international community every year on 10 December to commemorate the day adopted as the Universal Declaration of Human Rights in 1948 by the United Nations General Assembly.
According to Mr Jawneh, the event is meant to bring to the attention of the peoples of the world the Universal Declaration of Human Rights as the common standard of achievement for all peoples and nations.
He disclosed that the 2013 global theme is: 20 years working for your rights, while his organization decided to focus its celebration on child marriage, a practice seemingly becoming rampant in the rural areas.
According to him, child marriage is a marriage before age 18 and is also a violation of human rights that compromises the development of girls and often results in early pregnancy and social isolation, as well as in dampening the brighter future of a nation.
He said: "A forced marriage is where individuals are compelled to choose a life partner against their will. Typically, parents, guardians or other prominent family members force young people into a marriage where they have had no say and have to succumb to the whims, wrong decisions and cruelty by those controlling their lives."
He told his audience that child marriage is prohibited by Islam and no parent should base their actions and arguments on religion.
He cited Article 16 of the Universal Declaration of Human Rights of saying that marriage shall be entered into only with the free and full consent of the intending spouses.
The rights activist told his audience that education is a right and that child marriage deprives the victims of such a fundamental right in life as they are pulled out of school early.
According to him, while boys are affected by child marriage, the issue affects the girl child more.
He stressed that despite improvements in women's rights legislation, which is gradually changing social norms, forced marriages still occur throughout The Gambia, particularly in the rural areas.
He told the participants that early marriage compromises a girl's health, often resulting in early pregnancy, which can lead to reproductive health complications, isolation and sometimes death.
"The majority of married girls end up being children raising children. They miss out on education and perform heavy amounts of domestic work," he added.
Beakanyang is therefore committed to ending forced marriages, which robs people of their basic human rights.
"Today's activity and many other activities we do are aimed at raising awareness about the dire consequences of forced marriages," he said.
"We urge like-minded people from all walks of life and from across all our communities to support our work to put an end to this inhuman practice and to help us to build a brighter future for the country."
Mr Jawneh challenged students numbering over 200 to stand firm against child marriage and to also engage their parents in dialogue on the effects of the practice.
At the end of the forum, students expressed their resolve in tackling child marriage, while thanking Beakanyang for enlightening them.
Read Other Articles In Article (Archive)