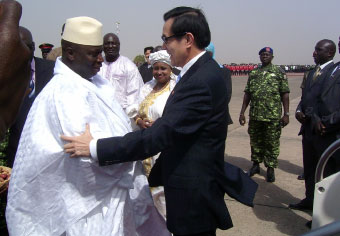 President Yahya Jammeh and a high-power delegation yesterday left the country for a state visit to the Republic of China (Taiwan). He is expected to be there for at least four days.
According to sources, the Gambian leader will also attend the graduation of five military academies in the ally nation during which some Gambian students will be graduating.
It would be recalled that in April this year, while in The Gambia, ROC President Ma Ying-jeou invited President Jammeh to Taiwan this month.
"I can assure you, Mr President I will reciprocate your generosity, to continue our friendship," President Ma told President Jammeh.
"I want to assure you of our continued support and friendship. Long live The Gambia-Taiwan friendship," Ma added.
In response, President Jammeh maintained that the relations between the two countries have gone beyond diplomatic relations.
"Taiwan has been a household name in The Gambia, even before 1994," he said, adding that the ROC has seen The Gambia as a country with potentials.
According to him, the ROC has changed the lives of many people in Africa and the Caribbean.
"I assure you that I will honour your invitation. We will always stand by you," said President Jammeh.
The event, he said, was historic and would, therefore, attend and do more exercises with his counterpart as they did in The Gambia.
Since the resumption of diplomatic ties between The Gambia and Taiwan in 2005, President Jammeh has visited Taiwan on many occasions likewise the Vice President and most of his cabinet ministers.
Taiwan support the Gambia in various fields of enadvours such as education, health, agriculture and infrastructure while the leter continue to manifest it's love and support for Taiwan for their meaningful participation in various UN specialised agencies.
Read Other Articles In Article (Archive)