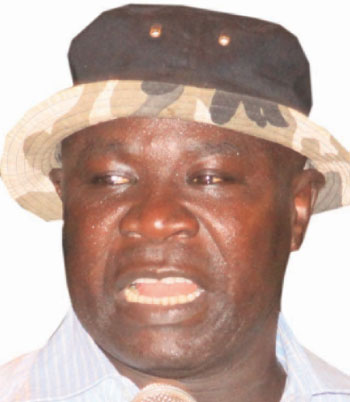 The Lord Mayor of the Kanifing Municipality and the APRC National Mobiliser, Hon. Yankuba Colley, has said President Jammeh had breastfed and "is still breastfeeding even those people who hate him".

He made those remarks on Saturday at the APRC National Youth Rally held in the provincial town of Basse, in the Upper River Region.
"He knows that the youths are happy because as long as you are with the APRC you are free from stress and your health is well guaranteed because he has built lot of hospitals and health centres just for them."
Colley further stated: "As for the youth, your work is wonderful and you have clearly shown us what you are capable of doing. I will assure you that the President is also ready to rally behind you forever."
"We are just waiting for December 1, to prove to everybody that we will win vigorously," he added.
Vice President Isatou Njie-Saidy, who also spoke at the rally, thanked the youths for their turnout and for making the day great for the ruling APRC party.
She emphasised that the youths should not sell their voter's card to anyone, but they should put it in the right place and would never regret it.
"Your vote is your right, so let nobody deceive you on that, and we know that the APRC will win again and again; there is no second thought about that," the vice president said.
Also speaking was the Women National Mobiliser, Isatou Jiffanga Jarjue, who urged the youths and women to vote massively for President Jammeh and the APRC in the forthcoming election.
Fatou Lamin Fye, Minister for Basic and Secondary Education, and APRC national treasurer, in her remarks on the occasion, also urged the youths to be very careful of whom they vote for, appealing to them to vote for the ruling APRC party.
"If somebody gives you breakfast and lunch and also promises to give you dinner; of course the person will surely give you.
"We will win this election again, and it will be violence-free, no doubt about that, because this country belongs to us and let us work together to make it great again under the leadership of our great leader President Jammeh."
Ma Sali Jawo, a resident of Basse and a deaf person, who spoke through an interpreter, said nobody from Basse is going to listen to the opposition or vote for them.
He said most of the opposition members were once taken care of by the President, before they started to challenge him back, "but Allah is watching, as what the President is capable of doing none of them is capable of that," he said, adding: "If you look around here or somewhere, most of the people went to Mecca because President Jammeh sponsored them."
Sailou Bah, Alkalo of Basse, thanked the President and said he was grateful to him for approving his appointment as the Alkalo of Basse.
"I want to tell the President that even though we have some members of the opposition who are from Basse; that does not mean that we are opposition. We are 99.1 per cent APRC and, come December 2, we will come to Banjul and celebrate with you again," he promised.
Hon. Bala Garba Jahumpa, Transport and Works Minister, and APRC secretary general, also spoke at the rally, and said the development people are seeing now was brought to the country by the Second Republic.
"Since 1996, he has created the NYC and the NYSS, and the youths are really benefiting from those skills, as well as from the PEGEP - where thousands of girls are being empowered - and the UTG too."
Read Other Articles In Article (Archive)