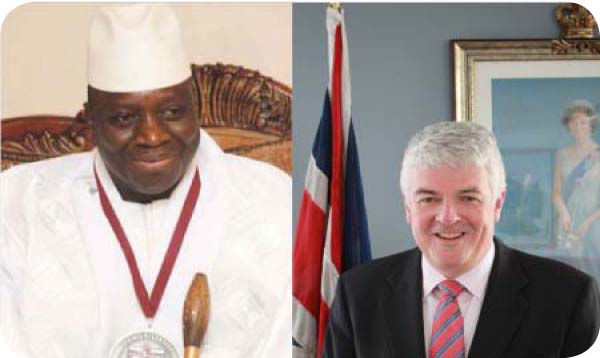 The Gambian leader has apologised to Britain, through the British High Commissioner, for mentioning the country, earlier on, as among the countries backing the ring leaders of the December 30th 'terrorist attack' at the State House in Banjul.
President Yahya Jammeh said:"When we mentioned those countries that supported these people (the attackers) and where they came from, we mentioned Britain. The British High Commissioner is here; I invited him to come. I apologise to Britain because as far as the investigations are concerned, up to this stage, there is no evidence of British government's involvement, for which I apologise to the British High Commissioner."
The Gambian leader made this apology on Friday while addressing officers of different security apparatus who marched, for the second time, from the new National Assembly complex to July 22nd Square in Banjul to show their loyalty to President Jammeh.
He further added that although there are some Gambian dissidents in Britain, "none (of the attackers) came from Britain."
"I will repeat, so far there has been no evidence of British support or involvement in this (attack)," he said."There is not a single Gambian or dissidents from Britain who came to join them; so I am very sorry. As a Muslim if you have wronged somebody you should apologise."
President Jammeh, who also spoke against so many evils of homosexuality and how great nations and empires had fallen as a result of evil, said he always picked on the British whenever he talk about the West because they colonised The Gambia."Don't feel offended," he told British Ambassador Colin Crorkin.
He said many retired British citizens feel at home in The Gambia."So even if we have a problem with the British government, we have no problem with the British people," the Gambian leader added.
Not an enemy to America
Despite his heavy criticism of the West as regards homosexuality, President Jammeh said he is not an enemy "even to the United States of America".
"I am not an enemy of the people of the United States of America; I am not an enemy of the government of the United States of America, we are not enemies of the people of the United States of America, but we will not be dictated to.
"We may have problems with their (American) government and their system; that has nothing to do with the common American people, they are good people," Jammeh said.
On 30 December 2014, the State House in Banjul was attacked by some Gambian dissidents with the intention to overthrow the government. Initially, President Jammeh said the attackers were based in the United States, Germany and the UK and were using weapons which are US-made.
In his first interview after the event, Jammeh said: "This is an attack backed by some terrorists that I will not name now but of course we know where the dissidents are based. These are the countries where today if you say 'I am anti-government' and you defect tomorrow you have a visa, when decent Gambians would not be given any visa to go."
Read Other Articles In Article (Archive)