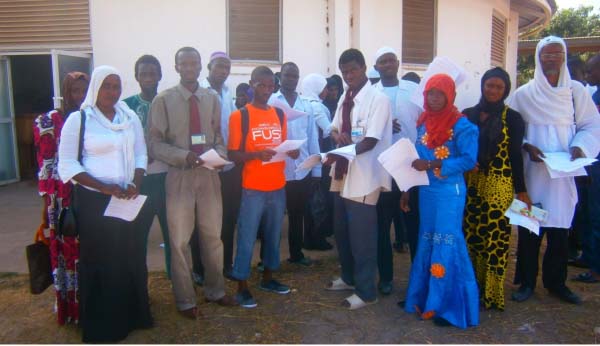 Family Gambia Peace Education, a charity organisation, is currently conducting weekly English literacy classes for Islamic students undergoing Primary Teachers Certificate (PTC) course at the Gambia College.
The participants of the training are being exposed to how to read and write English language and teach the children through English phonetics.
Ousman Fofana, education officer of Family Gambia, said the purpose of the training is to improve the English language skills of trainee Islamic teachers at the college to help enhance their teaching skills.
The organisation also offers computer classes and other vocational and skills training for girls, boys, adults and school dropouts.
Mr Fofana said: "The purpose of these trainings is to contribute our quota to national development through empowering communities with the necessary skills to serve humanity."
He said Family Gambia has plans to extend the English literacy classes to the teacher-trainees undergoing Higher Teachers Certificate programme at the Gambia College, starting from next academic year.
Fofana said that even though the association is making steady progress, it is faced with some challenges such as insufficient English reading books, lack of CD recorder to help the students to listen to oral English lessons. "Lack of mobility is also a key constraint," he added.
The senior officer of Family Gambia called on the government and the public and private sectors as well as international donors and philanthropists to come to the aid of the organisation.
Ebrima Jallow, a PTC Islamic student, expressed appreciation for the introduction of English literacy lesson as part of their course, saying it will "greatly help" them to improve the more in English language.
He said empowering them to be able to teach Islamic studies in English language is an added advantage.
Volunteers needed
Family Gambia is in need of "competent persons" who can volunteer in running the organisation.
Presently, the national coordinator of the organisation is gone for studies in Ghana and the deputy national coordinator is scheduled to leave next year, also for studies.
"So we need people who are willing to volunteer for them to join hands and move the organisation in the absence of these people," Mr Fofana said.
Read Other Articles In Article (Archive)