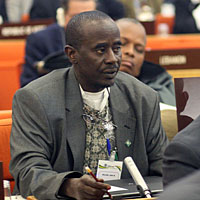 Forestry and the Environment Minister Jatto Sillah on Wednesday presided over the opening of a national inter-ministerial dialogue on investment and financial flows to address climate change.
Held at the Atlantic Hotel in Banjul, the forum, which attracted participants from various organizations, was organised by the department of water resources with support from the UNDP.
The main objective of the dialogue was to access investment and financial flows to mitigate climate change in the energy and forestry sectors to adapt to climate change in the agriculture and water sectors.
Speaking on the occasion, Minister Sillah said it is now well recognised that sustainable economic growth cannot be achieved without mitigation and adaptation to climate change.
He said: "As we all know, The Gambia is very vulnerable to the impacts of climate change and as climate change is already a reality around the world, the challenges it poses threaten to jeopardize the progress in sustainable development and in reaching the Millennium Development Goals."
According to him, various analyses indicated that the cost of inaction will outweigh the cost of action as such, "now is the only window of opportunity to redress the situation". 
He noted that the task of addressing the impact of climate change and capitalizing on the opportunities at hand clearly require inter-sectoral and inter- Ministerial approaches.
He added: "This dialogue will give us the opportunity to discuss the ways forward, how to introduce the outcomes into national planning, into national legislation, into further collaboration with bilateral and multilateral partners.
"In fact this dialogue should not mark an end of this effort, but instead serve as an entry point into further activities based on these results."
According to the director of water resources, Pa Ousman Jarju, an interagency expert team has over the past year assessed the priority areas of investment for the four sectors and will present their findings, and generate discussion regarding their implication for domestic follow-up activities that will be reflected in the outcomes for climate negotiations.
For her part, UNDP resident representative and coordinator of UN System in The Gambia, Chinwe M. Dike, said the effect of climate change in the global scene has become one of the many challenges facing the world, which if mismanaged, "will reverse" development progress.
She took the opportunity to congratulate the Government and people of The Gambia for being one of the twenty countries globally that have demonstrated commitment to addressing the concerns of climate change.
"The UNDP has and will always continue to be responsive to the development needs of The Gambia.," she said.
Read Other Articles In Article (Archive)