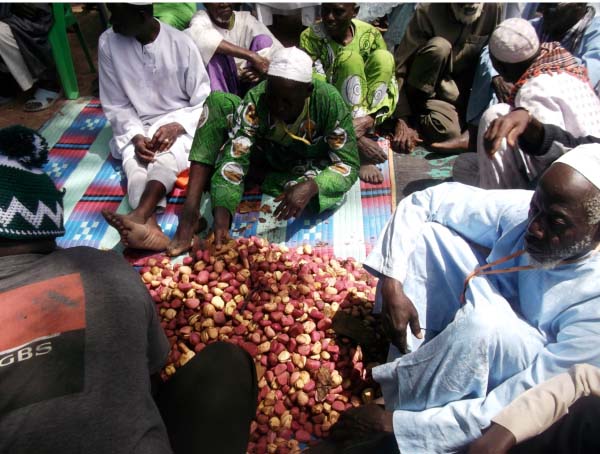 The Ministry of Tourism and Culture is at advanced stage with preparations for the 12th edition of the Gambia International Roots Festival, slated for 6-13 May 2016.
The latest preparation was a visit to Kanilai where the officials had a meeting and shared a bag of cola nuts among elders of various communities in Foni Kansala district.  It was a traditional way of informing elders of the districts of the forthcoming event and for them to pass on the information in their communities.
At the meeting on Saturday, Tourism Minister Benjamin Roberts said they have plans to make the upcoming roots festival "a truly international".
He said preparations started in The Gambia and outside 10 months ahead of the event.
"As long as preparations are concern, I think we are quite at advanced stage," the minister said, adding that there will be radio jingles announcing the event to the general public starting from Tuesday.  There will also be periodic discussion on the television in terms of the various activities of the festival.
Hon. Roberts told the elders of Foni Kansala that they should prepare to play their traditional rites during the Futampaff ceremony.
The minister explained that the roots festival is not a one day event, on each day different activities will be held in different parts of the country such as in Kansala, Albreda and Banjul.
"People should come out in their large numbers and showcase our culture especially on 10 May, which is the day for the Futampaff," he said.
Momomdou Joof, permanent secretary at the Ministry of Tourism, said the president has said that the Futampaff is not only for the people of Kanilai but those in Foni Kansala District and Casamance as well.
"Therefore, I am urging all the traditional leaders to come out and grace the occasion and show their culture," he said.
Read Other Articles In Article (Archive)