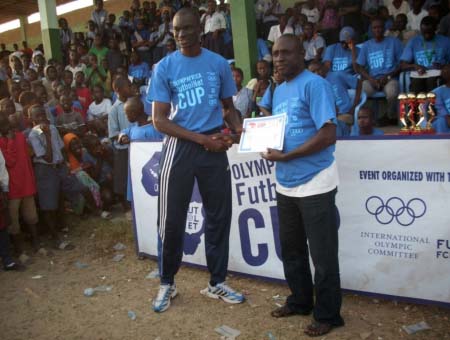 Tallinding Upper Basic School and St. Charles Lwanga have emerged winners of the FutbolNet Cup tournament organised by Olympafrica Centre and held at the Serrekunda East Mini Stadium.
Alfusainey Jarju, Director of Olympafrica Centre, Serrekunda East, speaking to Pointsport after the finals, said the tournament took place between 1 February and 12 March 2014.
The tournament, which featured over 3,000 students from various schools, is organised to teach children to be honest in the society, more so when playing football, he said.
The game is a combination of boys and girls (five boys and two girls in each team) playing for the same team at the same time, he went on, saying the most interesting part of the competition is a goal scored by the boys is counted as one but a goal scored by a girl is counted as 2 goals.
The reason for mixing boys and girls to form a team is because Olympafrica is here to promote women in sports, especially girls.
In the assessment, every team that participates has a point – if you lose you have a point – if you draw you have two points and if you win you have three points.
The reason for awarding a losing team a point is because they want to discourage the word zero so that children will not feel they lose.
The way Olympafrica operates is that it has various sporting events such as football, handball, volleyball, athletics and others, he also said, adding that they also organise the Eva Mbye fellowship, Daimler Cup, Samsung Cup and so many others.
"We say every child that comes to Serrekunda East you must have something to do," said the Director of Olympafrica Centre Serrekunda East, adding: "You either do football, handball, volleyball, wrestling, or go to the gym, internet, library or do athletics."
"So there is nothing like coming to Serrekunda East and being a waste," Mr Jarju remarked, saying: "Whatever you like we will engage and encourage you into it to achieve your fullest potentials."
He revealed that by the end of April they will organise the same FutbolNet Cup but this time regionally wherein they will invite the all Olympafrica Centers within the sub-region in The Gambia.
"We are lucky to host the first Futbol regional Net in The Gambia," Director Jarju said.
FutbolNet has six values – commitment, respect, teamwork, responsibility and effort, he added, noting it also has three basic fundamentals – dialogue, player and teamer.
Before the start of the game the players (both teams) will come together and dialogue without the interference of a coach neither the referee to decide their own rules, which suits them, he explained, saying whatever they agree on is what they will implement during the game.
The teamer is there to assist and guide them in case an agreement or disagreement or something else happens, he went on.
They introduced trophies and other materials and not cash prizes because they do not want to put stress in players or to the level where it will take them and their teachers too far where they will put the idea of win at all cost in them, he further said.
They believe in participation and also emphasizing the idea of honesty, trustworthiness and truthfulness in young people, he stated further, saying this is why they allow the kids to come up with their own rules before the game.
Mr Jarju went on to thank his team, saying he had a very strong team that worked hand-in-hand with him in the interest of the community as they are here for the community.
"We are here to serve the people and develop the truth and changing the attitude of kids," he also said, adding that his team did a lot of work, which ensured the competition is a success.
He also thanked the entire community of Serrekunda East, especially schools and their games masters.
Read Other Articles In Article (Archive)