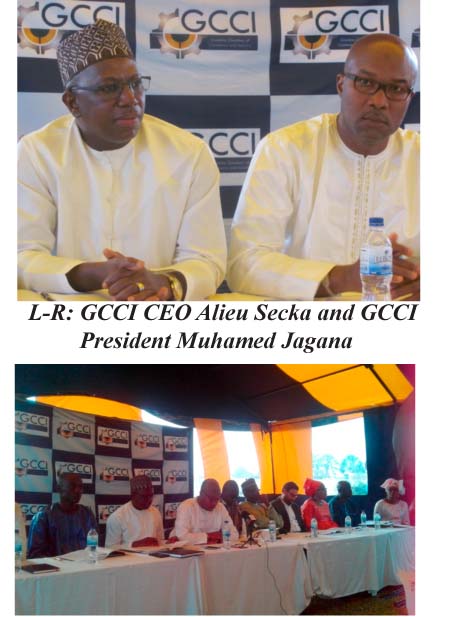 The president of the Gambia Chamber of Commerce, Industry, Agriculture and Employers Association (GCCI) has said the private sector apex body registered remarkable progress in 2015, as it worked hard to achieve set goals in the interest of the private sector and the national economy.
Muhamed Jagana made this statement at the Chamber's 2015 Annual General Meeting (AGM) held on Friday at its Kerr Jula secretariat in Bijilo.
Presenting the Report and Financial statements for 2015, Mr Jagana said the current board and management of the GCCI have been continuously working with members in the re-positioning and re-branding of GCCI to be the true "Voice of Business" in the country.
"We have come such a long way since. A new constitution was prepared and adopted at the 2014 AGM. An updated strategy for 2014-18 was also launched, with the assistance from Mr Dominic Mendy, formulated to take our Chamber to the next height and bring you even more value," he said.  "
"I am pleased to report that we have since made good progress in implementing several of our set goals.
"Through our various engagements with the government, ministries and agencies, we have been able to discuss many issues of concern to all parties.
"We also used these opportunities to enhance public and private sector dialogue, and have two very successful PPP forums that were well-attended and we are fully committed in strengthening this to the highest level."
The GCCI president said further that the Office of the President further appointed National Economic Council to be chaired by Ministry of Trade, Industry and Employment (MOTIE), which they hope "can be effective soon".
"Accordingly," he noted, "we are experiencing some momentous partnership and renewed support from many ministries and agencies, and have reached many good decisions for the benefit of our members."
He added: "We are grateful to the Office of the President for delegating H.E. Vice President Njie-Saidy to meet us annually and officiate on behalf of President Jammeh regularly at GCCI functions."
He said they had also, on behalf of the private sector, engaged government as partners on everything, including the issues of foreign exchange rates and shipment, the fortnightly set-settal or cleansing exercises, the fuel price, the cost and access to finance, the energy costs, the renewable energy and many other aspects of business and economic progress in the country.
"While we may not see immediate results, I can assure you that both sides are resolute in achieving win-win solutions," Mr Jagana said.
Jagana said they have also officiated many investment promotion ventures, and welcomed several missions to the Chamber from multilateral institutions, including the IMF, World Bank, IFAD, the African Union, and many foreign representatives based both locally in Senegal and in the region.
"The government has invited several GCCI entrepreneurs and management to join in state missions to Qatar, Turkey, Brussels, India and Bangladesh," he said.
"In return, in partnership with our sister agency, Gambia Investment and Export Promotion Agency (GIEPA), we hosted many inward delegations and hopeful that these will crystalise into viable long-term opportunities for Gambian businesses."
Furthermore, the chamber was also able to register remarkable progress in its operations over the year, resulting in an increased net surplus and assets for the year 2015 above the previous year.
It registered a net surplus of D6.5 million for 2015 from a net surplus of D5.9 million in 2014. Its total assets also increased to D31.3 million in 2015 from total assets of D25.2 million in 2014.
Although member subscriptions have been somehow sluggish in coming in, the Chamber was able to increase its income generation through mainly fund-raising activities, which amounted to D8.2 million in 2015 from D3.7 million in 2014.
New executive members were also elected to the Executive Committee of the Chamber's board of directors to replace those who retired.
These are Mr Baboucar Khan of Reliance Financial Services, who assumed the office of the 1st Vice President, and other three elected members: Mr Bajara Badjie of Sky High Ltd, Mrs Fatou Ceesay of Immediate Money/ Finance, and Oumie Ceesay Sallah of Discovery Tours.
GCCI's Business Development Manager and Secretary to the Board, Sarata Conateh, who moderated the AGM, said the GCCI would continue to serve diligently members of the private sector, as well as support the growth and development of the Gambian economy.
She said the GCCI is planning to stage in May its prestigious Business Awards Dinner to be followed by the next Trade Fair Gambia.
Read Other Articles In Article (Archive)