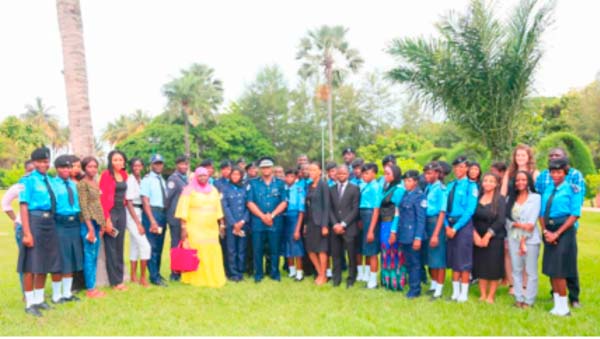 Safe Hands for Girls (SHFG) in partnership with IHRDA Tuesday commenced a two-day intensive training of prosecutors and child welfare officers on The Gambia's legal provisions on FGM and other practices against girls.

Speaking at the opening ceremony held at the Kairaba Beach Hotel, Mrs Jaha Dukureh, Chief Executive Officer of Safe Hands for Girls (SHFG), said the police prosecutors are the protectors of society.
She said recently, The Gambia passed law against FGM and child marriage, adding that these laws are here to stay.
Mrs Jaha emphasised that the police prosecutors and child welfare are here to protect citizens, adding that as an organization, they thought it was very important to train child welfare officers, magistrates and judges so that the laws could be implemented and upheld in the country.
She thanked the participants for their willingness to take part in the training, adding that they are hoping whatever comes out of the training could be used to help implement and uphold the laws in their individual community.
Mr Oludayo Fagbemi, on behalf of the executive IHRDA, stressed that it was very important that police prosecutors, child welfare officers as well as magistrates are on the same page when it comes to enforcement of the law.
He said the reason for the training was to let these officers know what the obligations are that they have when it comes to enforcement of these laws.
For his part, the deputy IGP Mamour Jobe, urged the participants from the different police units to take the training course very seriously, adding that 'before you are able to do anything, you must be conversant with it.'
He said the training course was meant to improve their knowledge on how to deal with children and other young persons.
Mr Jobe said they should try to inculcate and share the understanding that they gained during the training to help others.
Matilda Mendy, senior State Counsel opined that the initiative was very much in line with the government ingenuity and programmes at the peak to support and promote the implementation of the laws created by the government.
She remarked that in order to achieve these results, the Ministry of Justice was committed to working relentlessly with other key stakeholders in the area of promoting and protecting the right of women including the girl child.
"Over the years the ministry of justice has facilitated the ratification of various international and regional instruments formulated to protect children," she declared.
According to Ms Mendy, the government has put in place other legislations that are geared towards the protection of women and children, especially the girl child from sexual and other forms of abuse.
The Gambia seeks to ensure that the rights of children both boys and girls are provided with required legal protection in order to safeguard future development, she added.
Read Other Articles In Article (Archive)