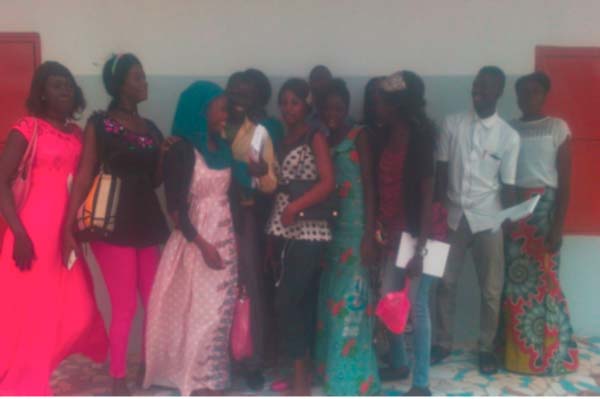 Nyaboute Foundation, a newly-registered foundation in The Gambia, over the weekend wrapped up a two-day training for 15 young people on Sexual Reproductive Health.

The event that brought participants from different areas across the West Coast Region was held at the Mamuda Lower Basic School.
According to officials, Nyaboute, which means 'family' foundation was out to promote health, education of women and girls through social and behavioral change communication approach.
It also addresses sexual reproduction health issues, family planning, Female Genital Mutilation (FGM), gender-based violence, early and forced marriage and epidemics such as tuberculosis, malaria, HIV through community volunteers where possible at basic health facilities.
Addressing the forum, Abdoulie K. Baldeh, president of the foundation, said the foundation was registered in April this year and the founder is Gloriamarpinez Mane who also is the donor of the project.
He said the two-day training on sexual reproductive health targets youth as they are the leaders of tomorrow.
Mr Baldeh expressed expectation that the training would enhance participants' knowledge on the reproductive health system.
In his welcoming remarks, the deputy headmaster of Mamuda Lower Basic School, Essa Balajo, expressed gratitude to the organisers for choosing his school as the center for the training.
Mr Balajo described the training as the first of its kind, noting that his school has never played host to such an important forum before.
He challenged the participants to make the best use of the training and share the knowledge gained with others.
Also speaking at the forum, Jerreh Manneh, secretary general of the Nyaboute Foundation thanked the deputy headmaster of Mamuda Lower Basic and his staff for creating an enabling environment for them to conduct the training in their school ground.
"Without health it is difficult to achieve something in our generation," he said, adding that the forum was timely as it would avail the participants the opportunity to know about sexual reproductive health.
Mati Cham on behalf of the participants expressed appreciation to the Nyaboute Foundation for coming up with the initiative geared towards building and enhancing their knowledge about sexual reproductive health system.
She also challenged her colleagues to disseminate what they have learned during the training with their people at home.
Read Other Articles In Article (Archive)