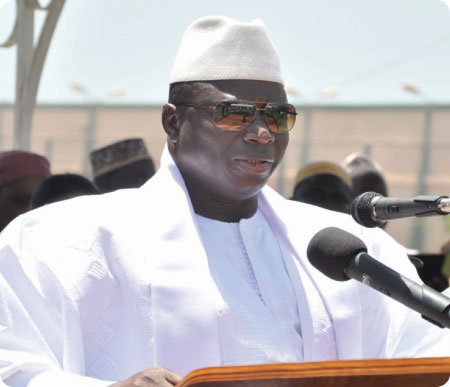 President Yahya Jammeh had issued a stern warning to all project coordinators, that he would not compromise on agriculture, because without agriculture other sectors would collapse.
He cited as an example that without food doctors or nurses would not be able to take care of patients as expected; likewise in education, without food students would not learn; therefore, the importance attached to agriculture.
President Jammeh was speaking in an interview with GRTS, on Thursday.
President Jammeh thanked the Almighty Allah and the Gambian people for what he described as a big achievement that The Gambia had realised within this 20 years period.
"I am very grateful to Gambians for what we have been able to achieve in all the sectors of this country, especially in terms of communication and infrastructure, but the focus was mainly on agriculture which remain my priority," he said.
Regarding agricultural projects that are two years old and from which not a single hectare has been developed, apart from workshops and study tours for best practices, President Jammeh said that was why he was taking drastic action against the ministry of Agriculture, because that is the area that has failed most.
"We should have been food self-sufficient by now and exporting, but due to some wicked so-called agricultural project directors that were an obstacle to development," he added.
He recalled that during the transition all the agricultural projects were very successfully, like Gam-rice that was being produced by Gambians.
Jammeh noted that agriculture would always be his priority, because the problem that was hampering this sector is dishonestly and laziness and an unpatriotic workforce which managed the projects.
He commended the Gambian farmers for their hard work and commitment to national development, particularly the women of the country.
According to President Jammeh, his last presidential tour has shown him the reality of how wickedness can retard development in a Third World country.
The attitude of those project officers, those in the field, did not serve as an inspiration to farmers, especially the field workers who should inspire farmers.
The Gambia leader spoke to the Gambian people regarding the need for collective efforts to take agriculture seriously in this country.
"I have to achieve what I set myself for the Gambian people," he said, adding that by the grace of the Almighty Allah nobody can stop him from achieving these objectives; "either you work or you go home."
"You are free to work, but you have no right to say let me stay and will not work and be paid salary and you become an obstacle to development," he warned.
"The reason why agriculture is very important is because if you don't have a healthy nation there is no way you can develop, but without agriculture health services will collapse, he stated.
So without agriculture nothing would work and it provides the biggest employment; so agriculture is indispensable, he went on.
The health of the nation is dependent on agriculture, as every person in this country depends on agriculture, he added.
"We had to play our role in the form of subsidies to make food available. I'm not going to do that again. So from 2016, you better take agriculture seriously; if you don't have a plot of rice try to do so," he said.
"Eat what you grow and grow what you eat," he said, adding that importation of rice would not happen.
Government had spent more than one hundred million US dollars in the agricultural sector, and disbursed hundreds of tractors, so Vision 2016 is just a cut off mark, he noted.
"The objective of the vision has been with us since day one, which includes self-reliance, accountability and transparency, operation feed the nation and operation feed yourself," he stated.
The objective was to achieve self-sufficiency, making use of the natural resources that we have such as the River Gambia, he added.
Read Other Articles In Article (Archive)