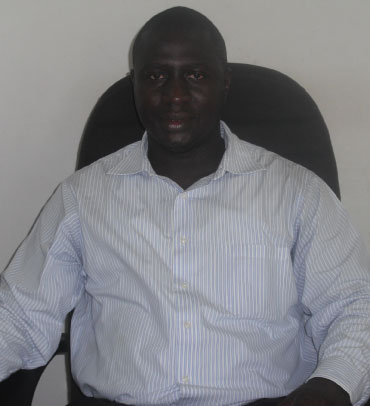 Welcome to another edition of Personality of the Week, the weekly column which profiles Gambians and non-Gambians alike whose contribution to the development of The Gambia should be celebrated.
In today's edition, we bring you the profile of a talented young man and owner of one of The Gambia's growing businesses. He is Mr Alieu Martin, proprietor of Martin's Signs and Graphics and a symbol of success in The Gambia's burgeoning private sector. His company provides digitally designed signs and branding services to some of The Gambia's biggest businesses and organisations including Gamcel, Gamtel, Global Properties and NAWEC. Clearly his clients have heeded Mr Martin's motto: "A business without a sign is a sign of no businesses."
Mr Martin was born in Banjul on September 2, 1974 to Mr Tajou Martin and the late Fatoumatta Oseh Sawyer Martin. He is his father's first and the only son and is mother's third son. Mr Martin attended Albion Primary school in Banjul from 1982 to 1988 and then proceeded to Muslim Senior Secondary school, also in Banjul, from 1988 to 1993 where he sat his O Level examinations.
He says he did not found his schooling difficult because his father was very supportive and was able to pay the entirety of his school fees once a year, rather than making smaller payments every three months.
"He was a parent who put all his resources together to make sure that I became a productive citizen and today I am reaping the benefits with other Gambians too," Mr. Martin told Personality of the Week.
After his O Levels, Mr Martin started a sign writing apprenticeship under his brother at New Jeshwang. He says: "After serving under my brother as an apprentice…I got the opportunity to move to US to further my education. While I was in US I decided to learn more about my trade. I enjoy sign writing, which is a noble profession."
"While I was in the US, I worked for Federal Heath Sign Company which is one of the biggest sign writing companies in the United States. I also worked for Hightech Signs and Cartwright Signs companies, both in the US."
Eventually he returned to The Gambia, his motherland, so that he could continue to work in a place where everybody knows him. He says: "Doing it in the US was just a small thing …but [digital] sign writing is a new technology in The Gambia."
When asked why as a dynamic young man he decided to go in for sign writing, he says: "It is good for young people to learn a trade. Not everybody is academically gifted, so learning a trade like sign writing means you can employ yourself. As a citizen, you can only say 'what can I do for my country' but you cannot to say 'what can my country do for me'."
There is clearly a demand for Mr Martin's specialist skills in The Gambia. Businesses and other organisations are increasingly seeking move away from hand-painted signs in favour of digitally designed branding.
Mr Martin says: "We are in a digital world. This is why I decided to learn computer graphics. Ever since I started my company in 2010, Gambian companies have been patronising me. I thank the Almighty Allah for being in The Gambia and being able to operate my business without any hindrances."
Mr Martin says that his marketing knowledge was very useful when he started his company as he knew how to meet and approach potential clients and how to convince them to buy his product. He says: "When you have a good product it sells itself. Most major companies in the country come to me through referrals from other companies. But nothing in life comes easy!"
Mr Martin describes The Gambia as a place where you can make it. He says you don't have to leave The Gambia forever to achieve your dreams and ambitions. There is no place like home.
"No trade is a bad trade, you just have to be focussed and think big," he says.
Read Other Articles In Article (Archive)