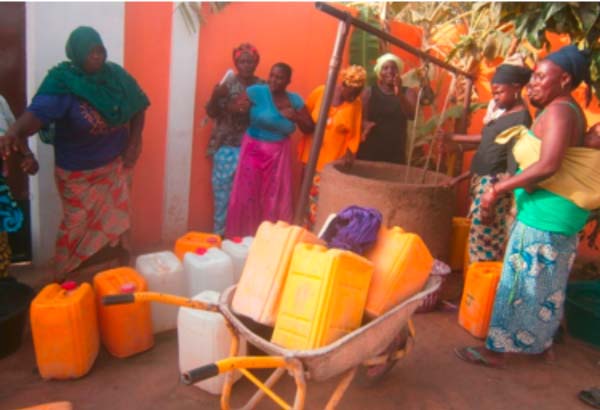 The community of Kunkunjang Darussalam village in the West Coast Region has been hit by a "shortage of water" and lack of "clean drinking water" in their community.
Members of the community said they have only one local functioning well, which is inadequate for the population of kunkunjang Darussalam.
They also complained that the water is very salty, dirty and unsafe for human consumption.
They added that the situation is causing a lot of problems for the women, as they would have to wake up in the early hours of the morning to search for water; with some using donkey carts to trek all the way to Bunjulinding to look for water.
Speaking to this reporter who visited the community, one Jarriatou Jatta, secretary of the women's kaffo in Kunkunjang, said: "Women in the community are struggling to get water for domestic use.
"Currently the entire village is using only one single local well in somebody's compound to fetch water for domestic use."
Ms Jatta said access to water, especially clean drinking water, remains a major concern for the community, adding that it is even a problem to perform ablution for prayers at the mosque.
She said some times they would have to contribute to buy water from the shops and take it to the mosque for people to perform abolition for prayers.
Water from the local well, she added, causes a lot of problems for them such as cholera, diarrhea and other diseases.
According to her, "all this is due to lack of tap water," while calling on the concerned authorities to come to their aid.
Ms Jatta, on behalf of the community, launched an appeal to the government through the Department of Water Resources to ensure that her community has access to clean drinking water, by providing them with local pumps and street taps, as well as other means of having access to water.
"We are suffering for access to water, especially clean drinking water. We need the President to help us to have access to water," she said.
She also appealed to NGOs, charitable organizations, philanthropists among other people and organizations to help them have access to clean drinking water.
Other people in the community who spoke to this reporter included Sonna Jammeh, Nyimanding Fadera and Jainaba Darboe, who all complained of the same problem affecting them in their daily life.
"We have been residing in kunkunjang for the past sixteen years without proper clean drinking water," they said, adding that the dire situation is also affecting their school-going children.
Read Other Articles In Article (Archive)