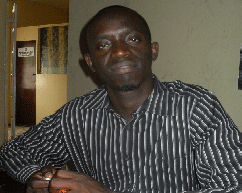 Gambia's reigning mbalax star Pa Omar Jack and his Jeff-Jell Band recently returned home after a successful musical tour of the US.
The Gambian mbalax king came back fully prepared to release his fourth album entitled 'Gambian Women', which is expected to be on steam in December 2011.
Speaking in an interview with Entertainment on Tuesday at Unique FM Radio, Pa Omar Jack, aka Fish and Chips, said his trip to the US was organised by the Gambian-American Association based in Washington DC, who invited him as a guest artiste to attend their annual cultural festival.
Pa Omar Jack visited Seattle, where he was awarded, and later proceeded to New York and Atlanta, where he also performed for the Gambian association called Agera.
Pa Omar Jack said his trip to the US was very much successful, noting that the standard of music "is well advanced in the US".
Fish and Chips' first trip to the US was in 2009 where he also conducted superb concerts. "I was in the US to promote my album," he told Point Entertainment.
Dilating on his coming album, the well known Gambian star added that he is very much busy at the studios putting finishing touches to release his fourth album expected to hit the market in December.
The album, he disclosed, contained six tracks. The elated Pa Omar said the album, which will be in both cassette and CD formats, will be available in recording shops in town as soon as it is released.
He elucidated: "The album will tackle a lot of interesting and political issues."
The popular Fish and Chips thanked The Gambia-American Association for inviting him to the US. He also thanked his fans as well as the Gambian people for supporting him and appreciating his music.
Read Other Articles In Article (Archive)