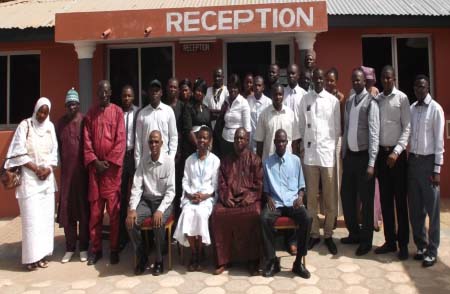 The Ministry of Agriculture and other partners such as ministries of Trade and Water resources, WFP, FAO and NGOs are organizing a five-day joint food security analysis using harmonized framework from 4 to 8 November 2013.
Held at the Baobab Hotel, the forum brought participants from various sectors and was supported by Permanent Inter-state Committee for Drought in the Sahel, CILSS.
In his official opening remarks, on behalf of the permanent secretary, Abdoulie Danso, deputy permanent secretary, said the five-day workshop will allow experts with food security, vulnerability, and market and nutrition backgrounds to actively participate in view analyzing the food security situation in The Gambia using the joint harmonized framework.
According to him, CILSS has registered 40 years of existence and has been supportive to member countries' development initiatives in all areas of development most particularly in the area of food security.
Mr Danso said CILSS, in collaboration with its partners, USAID, EU, CANADA and French Development Agency and member countries, has developed a common tool to analyze food security and provide information.
He noted that the harmonized tool has been developed in a process of research-action in fifteen countries in collaboration with national stakeholders and actors of the CILSS member countries and other coastal countries of West Africa.
The development of the framework was based on inclusive participation, consensus, transparency and coordination and synergy that allow for analysis of food and nutritional security of the countries, he said.
He said that in view of the Government's commitment to ensure food security for the citizenry, governments in West Africa have given priority to the programme.
Danso said in line with the programme, The Gambia Government has echoed food security as a key development agenda and has promoted policies and programmes that are responsive to regional, sub-regional, national and local food security dimensions.
He expressed his conviction that the workshop has a membership that is multidiscipline as it workshop requires analysis of data from all institutions to allow The Gambia to integrate well into regional as well as sub-regional food security endeavours.
He said the workshop is very important because since 1984 countries have been experiencing food insecurity each year as a result of poor harvest or insufficient income, enabling population not to have access to adequate food.
He noted that the outcome of this workshop will contribute in ensuring that The Gambia, like all other CILSS member states, is provided with adequate food security information analysis to enhance good governance of food security for its population.
The DPS then took the opportunity to thank the CILSS and its partners, for facilitating the process of this analytical method as well as to facilitate and share their deep knowledge and experience with Gambian experts.
For his part, Salfu Sow from CILSS thanked the Government of The Gambia for hosting the five-day forum for expert, to share their knowledge and experience on food security analysis using harmonised framework.
He challenged the participants to take the training seriously as CILSS is trying to harmonize their activities with the sub-region.
Read Other Articles In Article (Archive)