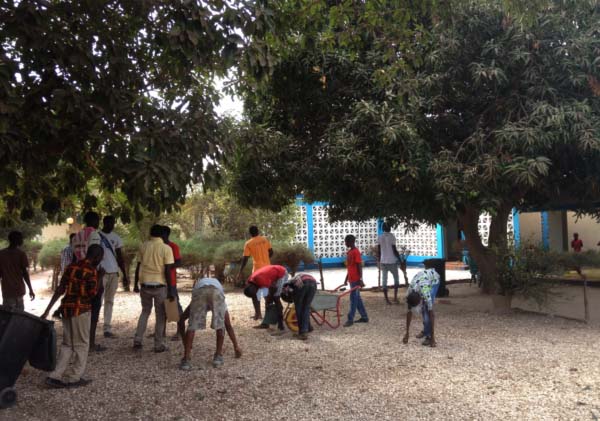 Crime Free Society on Sunday commemorated the Day of the African Child by conducting various activities at the SOS Village in Bakoteh.
The commemoration included cleansing exercise, laundering, barbing and plating.
Launched last month, Crime Free Society said DAC is their first major activity. They aim to maintain such activities as well as join others involved in similar important undertakings.
Speaking to reporters at the function, Ismaila Sambou, chairperson of Crime Free Society, said: "We are here to commemorate the Day of the African Child in the manner it has been celebrated by many although we will concentrate on the theatrical aspect like creating 'Bantaba' and conducting symposia."
"We decided to come at the SOS Village to celebrate and to help them in their house chores in the practical aspect," he said, adding that they started with general cleansing of the compound and houses and continued with washing or laundering dirty cloths as well as cut the hair of the boys and girls among other work.
SOS is home for orphans, he noted, adding that it is very important to help those who need help through such activities or exercises.
"We shall all be going back home to our fathers and mothers but these children have no home to go, except here," he reasoned.
"This is home for them and a place where people are only catering for them as mothers and fathers but in the actual sense the lack of having true parents is another thing altogether."
Crime Free Society plans to be celebrating the day with SOS every year and is also planning to sign an MOU in that respect.
He thanked the founder of Crime Free Society for funding the activity and providing the necessary facilities to make the event a success.
Read Other Articles In Article (Archive)