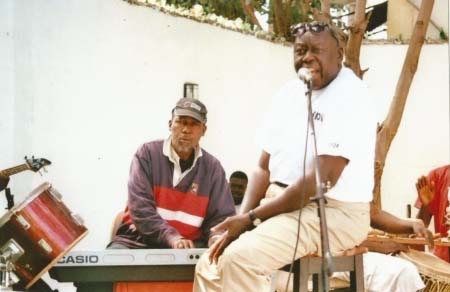 Ismaila Oussou Njie Senor is set to celebrate his 50-year golden jubilee in music by staging various shows with his new Faateleku Dance Band with other Gambian bands and musicians.
The first show, according to Oussou Njie Senor, will take place on May 2 at the Pencha Mii Hall, Paradise Suites Hotel and is expected to feature Oussou Njie Senor and his Faateleku Dance Band with various Senegambian artistes.
The other shows will take place on 3 Mayat West Coast Region in Brikama, on 6 May at Lower River Region in Soma, 7 May at Central River Region in Janjanbureh, 8 May at Upper River Region, 9 May in North Bank Region in Farafenni, 11 May in Kanifing Municipal Council in Serrekunda and 31May in Banjul.
He said the tickets for patron and couples is pegged at D750, patron singles D500 and ordinary D250.
He calls on everyone, especially older timers, to come out in their numbers to fill the Pencha Mii Hall to remember, dance and listen.
He disclosed that 75 per cent of the proceeds from the shows will be left at the regions to be used for community projects.
Oussou Njie Senor took the opportunity to invite everyone to the shows, and appealed to all to help with cash or kind to make the tour successful.
The veteran musician, who is also popular in Senegal, also plans to play in Kawlack, Ziguinchor, Dakar and St. Louis after the rainy season. Born in Banjul in 1945, Oussou Njie Senor began playing music in 1964 in bands called Black Star African Jazz and Eagles.
He went on first tour with Eagles outside of the Senegambia in 1964 just after completing his school studies that same year.
Oussou Njie Senor said he was the youngest singer in that band with Sammy, a Congolese who was band leader and guitarist; Marcelling also a Congolese and a singer; Badou Jobe, a Gambian-based guitarist; Modou Cham, a Gambian tumba, and Ola Coker, a tumba and drummer.
Oussou Njie Senor, Badou Jobe, Modou Cham and Ola Coker decided to form their own band (Super Eagles) in 1968 when they returned from the tour in 1964.
The veteran musician said that in 1969, a Gambian businessman called Solo Darboe bought instruments for them on credit, which formed the basis for their onward march to stardom. 
Read Other Articles In Article (Archive)