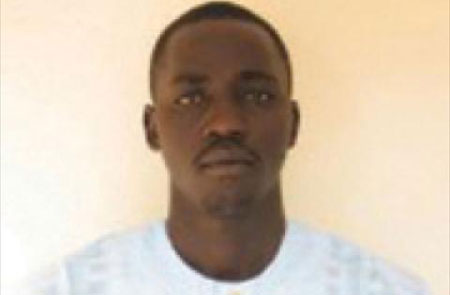 Alagie Jobe, who is standing trial alongside one Mbye Bittaye, made the allegation while opening his defence in the mini-trial otherwise called voire dire that was conducted to ascertain the voluntariness of his statements made to the panel of investigators at the NIA.
He was arraigned on a five-count charge of making an act with seditious intention, seditious publication, and possession of seditious publication, giving false information to public servant, recklessness and negligence, while Mbye Bittaye was arraigned on a single count of making preparation to do act with seditious intention.
Jobe told the court in a voire dire trial presided over by Justice Emmanuel Nkea that he is a journalist resident in Bundung, but currently lives at Mile 2 Central Prisons.
He added that he was arrested by the NIA officers and brought to the NIA on 8 February2013, and was detained with one of his friends called Baturr Ceesay, with whom he spent the  night together at the NIA.
Jobe recalled that on 9 February 2013, while in a cell at around 1a.m., one security officer at the gate took him out of the cell and escorted him to the conference room, where he found a group of boys standing while some were downstairs.
He narrated that the officer who escorted him opened the door of the conference room and asked him to get in, but when he peeped into the conference room, he received multiples of slaps and some scolded him until he became unconscious.
"They stood near me until I regained consciousness," he explained, adding that when he regained consciousness, he saw the officers sitting and they started posing questions on him relating to the alleged document, which they said was published by him.
Jobe told the court he refuted that the said story was never published by him, and he told the officers that before any story was published, it must be authorised by the director.
According to him, when he said so, one of the officers was then sent to fetch sticks and the sticks were brought before him only for him to admit publishing the story.
He pointed out that the article in question was a cancelled article, which was never published.
"When I said that the article in question was a cancelled article, the officers told me that I am lying and they started beating me again with sticks all over my body in a darkroom which had imprinted marks on me," he said.
"The marks are still visible on my stomach, on my face, on my fingers and even if I want to bend my fingers, I cannot," Jobe told the court in his defence.
Editor Jobe further revealed that the torture inflicted on him was as a result of an 'agenda' against him.
"They told me that you will be here till tomorrow," he said, adding that when they came the following day, the same trend continued.
He stated that he was told that he must talk, either by hug or hag, and one of the officers with the notepad told him to write a statement they wanted, and they continued to beat him, which was on a Sunday
Jobe further alleged that he was asked to reproduce the content of the notepad, because the statement was written on the notepad, adding that he had no option other than to comply with what they ordered him to write.
"It took me three days to write this statement," editor Jobe revealed.
He said when the OC of investigation saw him in the way he was handled, the OC immediately ordered for him to be taken for medical checkup.
He added that he was taken to the clinic along the Marina Parade where he was referred to the Edward Francis Small Teaching Hospital, where an ex-tray scan was conducted on him.
Still testifying in the voire dire defence, Jobe said: "I wrote the statement before the panel where there was no independent witness.
"PW2 in the mini-trial was never present at the time I was recording my statement. I wrote my statement in three different occasions and I was ordered to write three different issues."
He stated that the said statements were not voluntary, adding that no independent witness was present at the time, and no independent witness was brought before him.
"I only signed the statements but I did not read the contents of the statements and the statements were written by the panel. I was in detention for approximately 32 days without having access to my family because of the nature of my body," he explained.
"Charges were never read to me and nor did I admit the charges," he said, adding that his statement was obtained on 9 February 2013, and it was backdated in his presence.
He adduced that the torture inflicted on him by the NIA officers was not a state affair, but instead somebody used his influence.
"I did not see it as a state affair but a personal affair," Jobe stated.
 The case continues on 17 June 2013, for cross-examination.  
Read Other Articles In Article (Archive)