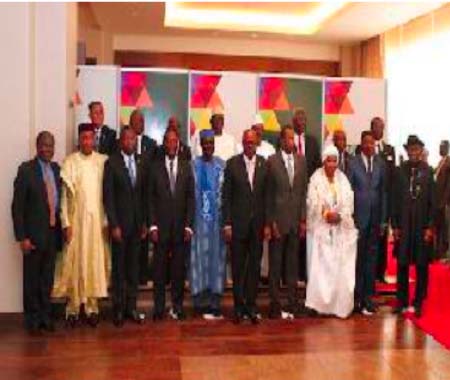 ECOWAS leaders meeting in Accra, Ghana, on 10 July 2014 for their 45th ordinary session reminded themselves of the commitment of ECOWAS member states to the practice of democracy and good governance.
The Gambia was represented at the mid-year ECOWAS summit by the Vice President, Isatou Njie Saidy.
The final communiqué issued at the end of the summit meeting said "the heads of state and government note with satisfaction, the progress
recorded in the process of democratic consolidation and stability in the member
states, which climaxed in the successful swearing-in of the democratically-elected President of Guinea Bissau, José Mário Vaz, on 23 June 2014".
The communiqué added: "In this regard, they take note of the commitment of the Community to the value and practice of democracy and good governance, which progressively deepened the democratic culture in the member states and ensured that all the ECOWAS member states are now governed by democratically-elected Governments".
It went on: "In the light of the above and in view of the critical presidential and
parliamentary elections scheduled for 2015 in Burkina Faso, Cote d'Ivoire,
Guinea, Nigeria and Togo, the Authority reiterates its commitment to ensuring
that the processes preceding, and the actual conduct of these elections are
free, fair and credible, in line with the Constitutional Convergence and
Democratic Elections Principles of the ECOWAS Supplementary Protocol on
Democracy and Good Governance (2001) and in accordance with internationally-acceptable standards".
According to the communiqué, the ECOWAS heads of state and government "reaffirmed their unwavering commitment to accelerating the region's reforms and integrated economic development in an environment of sustainable peace, security and democratic good governance". 
Read Other Articles In Article (Archive)