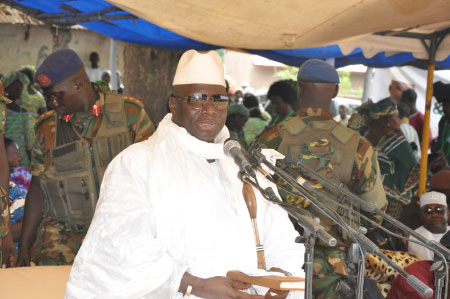 Jammeh, who was received to a tumultuous welcome by elders and youth of the North Bank Region, later proceeded to Chamen village where he inaugurated the newly refurbished seed multiplication centre.
The centre, funded by GEAPP/WAAPP project, is among others meant to boost agricultural productivity by increasing access to agricultural inputs and equipment.
From Chamen village, President Jammeh and entourage, which included cabinet ministers and APRC party bigwigs, proceeded to Farafenni, where a meeting was held.
Addressing thousands of people at the meeting, President Jammeh reiterated his call for Gambians, especially the youth, to change their attitudes and contribute effectively to national development.
President Jammeh lamented that his government has put in so many projects aimed at developing the country but it is mainly non-Gambians who use those facilities.
He revealed that his government has invested in all the sectors of the economy all geared towards empowering the youth to enable them contribute effectively to national development.
He disclosed a D39 million youth fund package for the youth he said can be accessed by youth groups and not individuals.
"The socio-economic activities in this country are in the hands of non-Gambians. I know you will not like it but I will always tell you the truth. Our farmers are ageing and the youth must take over the responsibility of poverty alleviation. If anyone calls themselves APRC supporters, they should emulate the leader," President Jammeh told the meeting.
The Gambian leader used the Farafenni meeting to again emphasise his zero-tolerance to vices such as armed robbery, rape, murder and homosexuality, stressing that such will never be tolerated in the country.
He emphasised that there will be no compromise with armed robbery and same sex marriages because these are not in conformity with our traditional values and cultural heritage.
According to him, it is not fair for anyone to kill a person for personal gains and get away free and "it is equally unfair for Western human rights organizations to make unnecessary noise asking us not to kill killers".
"The West is killing innocent civilians in the name of fighting terrorism," he said.
The Gambian leader also used the occasion to call on Gambians to desist from the bad habit of assisting foreigners and neglecting fellow citizens, warning landlords to desist from giving priority to foreign tenants.
"Citizens are denied tenancy in favour of non-Gambians," he noted, while further warning landlords against renting their houses to foreigners engaged in illicit drugs and other unlawful activities as there is the tendency of forfeiting the property to the State.
"We are one big family and should therefore be helpful to each other and avoid placing money above the human being," he stated.
Dr Momodou Tangara, minister of Higher Education, Research, Science and Technology, Solomon Owens, Minister of Agriculture, and Yankuba Colley, Mayor of the Kanifing Municipal Council, who is also the APRC National Mobiliser, all called on the youth to make best use of the opportunities made available to them by the government.
From Farafenni, President Jammeh and his entourage proceeded on Jangjangbureh via Kaur and Nyangen all in the Central River Region.
Read Other Articles In Article (Archive)