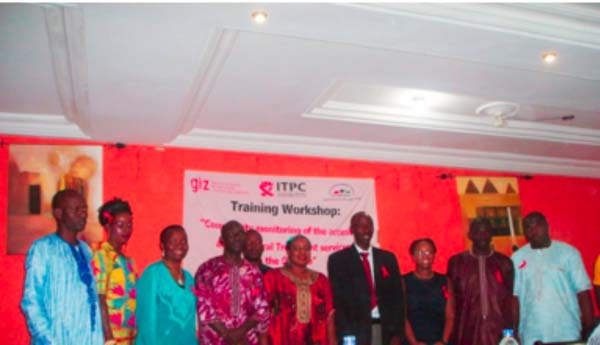 Ms Sirah Ndow, country director UNAIDS, has said universal access calls for comprehensive provision of HIV services, including access to treatment services that are accessible, acceptable, affordable, available, equitable, and sustainable as well as free from any form of stigma or discrimination.
She added that no one should be left behind in accessing treatment services and closing the treatment gap.
Ms Ndow was speaking on Saturday during the closing of a six-day training session organised for People Living with HIV by the Gambia Network of AIDS Support Societies and funded by the German Agency for International Cooperation, through the International Treatment Preparedness Coalition.
It was held at the Paradise Suites Hotel under the theme: "Community monitoring of access to antiretroviral treatment services in The Gambia," and brought together 50 participants from across the country.
Universal access remains the corporate priority of UNIADS, and continues to serve as a central pillar to achieving UNDAIDS' vision of zero new infections, zero discrimination and zero AIDS-related deaths, Ms Ndow said.
The Gambia HIV/AIDS policy and the HIV/AIDS national strategy plan 2015-2019 also aim to achieve the three zeros, she went on.
She added that five million people are alive because of treatment, adding that infection rates have dropped 17 per cent since 2001 and 10 million people are waiting for treatment.
Ms Ndow also revealed that UNAIDS is committed to the fast-track initiative in ending the AIDS epidemic by 2030.
It would be impossible to end the epidemic by 2030 without closing the treatment gap by scaling up HIV treatment and bringing treatment to all who need it, she continued.
UNAIDS recently adopted the 90 90 90 treatment targets, which state that by 2020, 90 per cent of all people living with HIV would know their status; by 2020 90 per cent of all people diagnosed with HIV would receive sustained antiretroviral therapy, and by 2020, 90 per cent of all people receiving antiroterivials would have viral suppression, according to the UNAIDS official.
Speaking earlier, the national coordinator GAM-NAS, Pa Musa Camara, said his organization is the umbrella orgaisantion for people living with HIV, and is both a member of the CCM and grantee of ITPC-West Africa.
He said GAM-NAS is implementing the stock out project (STOP) funded by the German Agency for International Corporation (GTZ) through ITCP-West Africa for the period 1 October 2014 to 30 September 2015 (12 months).
"We are witnessing the certification of 50 participants who were trained to generate data on treatment of PLHIVs, and work for the success of the STOP project in their respective communities."
Camara appealed for the government's continuing support, and for support from other agencies and the UN family, in funding their projects and supporting in the fight against HIV/AIDS.
Ashley Steward, representing the US Embassy in Banjul, acknowledged the importance of the training session, which she said would help the community treatment observatory improve HIV treatment and care services.
It would better equip the activists to be able to better monitor the community of people living with HIV and the quality of antiretroviral treatment, she added.
Steward also reaffirmed the embassy's support for HIV activists in combating HIV/AIDS.
On behalf of the participants, Lamin Mako Ceesay thanked both the organizers and funders of the workshop.
"We learned about how IPR laws, which is intellectual property rights and international trade regulations, could affect the affordability of essential medicines and commodities in affected communities in emergency situations, among other things," he said.
Ceesay urged his fellow participants to operationalise what was learned during the session.
Read Other Articles In Article (Archive)