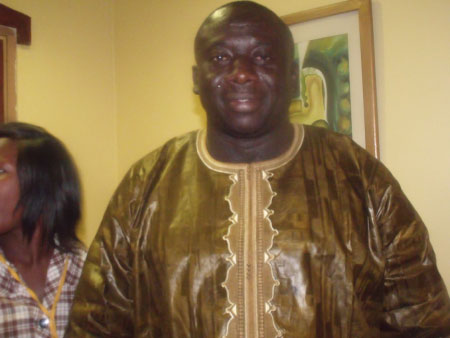 Beginning today The Point will run profiles on the four persons who have filed nominations for the Gambia Football Federation presidency. For just reasons of immediate incumbency we start with that of the former Gambia Football Association (GFA) president Seedy Kinteh.
Kinteh became GFA president in December 2005 after serving as vice president in previous executives led by Omar Sey and Gabbie Sosseh.
A well-known figure in supporting football, especially Stave Biko of Bakau where he stayed, Seedy Kinteh is the patron of first division side Bakau United and the initiator of several Nawetan male and female clubs around the country.
He is a firm believer of grassroots football and a naturally gifted mobilizer of urban and rural youths towards sports, a feat that has made him extremely popular among rural youth.
His tenure of office was characterised by the dominance of African youth football by Gambia, the Under-17 team won the Nations Cup in Algeria in 2009, their second since 2005, and the Under-20 made it to the African and World cups.
Kinteh also presided over a time when the Scorpions under coach Paul Put inspired great hopes in the Gambian game with home victories and a famous draw in Dakar in 2008 which stopped Senegal from reaching the final phase of the World Cup qualifiers for 2010.
It was under Kinteh that The Gambia Football Association built a headquarters through Fifa Goal project as well as an artificial turf in Brikama with others planned at the Fifa technical centre in Yundum and other rural centres.
However Seedy Kinteh's administration had often come under criticism for inefficiency and in March 2012 it was dissolved by the Sports minister and replaced by the Normalization Committee.
His supporters have since cried foul and accused the authorities of setting back progress in football. They have since called for his return in this month's elections.
His candidature is the subject of a rowdy debate between football stakeholders with camps divided on whether he should come or not.
In an earlier interview, Kinteh, believed to control a large section of the regional electorate, had declined to comment while his supporters are doing the talking on his behalf.
They said his success at the GFA is unprecedented and he deserves another chance.
Read Modou Musa's profile tomorrow
Read Other Articles In Article (Archive)