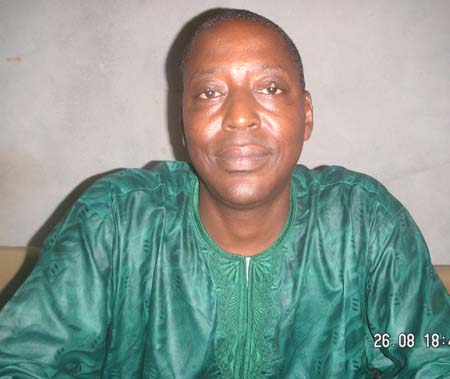 The National Disaster Management Agency, through the Regional Disaster Management Office in the Upper River Region has reacted to comments made by Hon. Sidia Jatta, the National Assembly Member for Wuli West constituency on the initiative done by the agency to help disaster victims in his constituency.
Hon. Jatta, who was speaking at a press conference last Thursday, said that despite the numerous disasters in his constituency, "nothing has been done by the agency to support the victims."
Below is the full text of the reaction of the Regional Disaster Management Office, Upper River Region, signed by Mawdo Amadou Jallow, the Regional Disaster Management Coordinator:
"The Regional Disaster Management Office and committee Upper River Region have learned that the Hon. Member for Wuli West Sidia Jatta has plans to launch a disaster fund. This statement was contained in an article carried by The Point and Foroyaa News papers in their Friday 27th August 2010 edition. However, in the view of the Regional Disaster Management Committee (RDMC) and office it is a welcome development, but it must be done within the context of the law governing resource mobilisation for disaster victims as per broad terms of the National Disaster Management Act 2008. However, the RDMC do not share any of the facts advanced by Hon. Jatta, as to the reasons prompting him to launch an appeal.
Let me set the records straight
Firstly, the RDMC conducted a detail assessment not only in Sutukonding but the whole of the region, including Madinna Koto, Sutukoba, Birifu Foday Kunda, Kaba Kama, Bassending Dampha Kunda, Tambasansang, Basse, Koba Kunda layout, Samba Tacko, and Sabu Sireh
Please allow us to add your understanding that not only did we carry out a detailed assessment, but also  held a major distribution exercise in Basse, Sutukoba  and Foday Kunda. In the recent distribution held in Basse on 16th August 2010, the three most severely affected families from Sutukonding received support. Therefore, it is misleading to say there was no assessment and support.
Regarding Sutukoba, this office not only have it carried out an assessment of the damage, but distributed food items to the victims in Sutukoba and Foday Kunda in fact through an NGO partner WASDA.
In addition, these offices have never received any report on fires in Barrow Kunda, but in Sutukonding where only one family was involved in a number of times. In fact, the findings reveal that it was a shop belonging to one Yankuba Kijera. Disaster does not mean the disruption of the functioning of a family, but society or community causing widespread damage with that community not having the capacity to coop requiring outside support.
The result of the detail assessment indicated that there were only three families that lost their large ruminants in Sutukoba, and they were 5 and NOT 6 to 8 as pointed out by Hon. Jatta.
Only 12 families were affected in both Sutukonding and Madinakoto and only 9 houses were partially damage and 6 completely damaged. Clearly, no 27 compounds were totally destroyed, as reported by Mr. Jatta. Besides, our findings also revealed that lots of complaints received in Sutukonding were not disaster cases, but old unsolved issues.
Furthermore, for the purpose of clarity, the NDMA and partners had provided relief to 61 families so far while, the Red Cross has issued to 28 families. Yes, there are 67 more families that still do not receive support, but do not constitute that "nothing has been done." That would be a very unfair statement.
The detail assessment conducted by the RDMC from 4th-5th August 2010 revealed that 128 families were affected representing 1191 people. Of this figure, the RDMC which is an NDMA structure has so far reached out to 61 families that are most vulnerable. Moreover, the Agency?s Director and the RDMC members were in Samba Tacko to issue support to the family that lost its child in the disaster as well as went round the community of Kaba Kama which was more seriously affected than Sutukoba and Sutukonding combined.
"I am yet to hear what the national initiative has done to help those who have been affected by that terrible damage, in either damage, in either Sutukoba or in Sutukonding" This statement explains that Hon. Jatta does not listen to or watch the GRTS radio and TV.
Clearly, all this explains that Hon. Jatta is not in touch with the reality on the ground. For this reason, the Regional Disaster Management Office invites Hon. Jatta to visit the victims and find out for himself rather than relying on hearsay. Nothing stops Mr. Jatta from asking the Agency, the Disaster Governing Council or the Regional Governor as to what is happening, has happened or about to happen.
My office together with the NDMA and partners are pursuing vigorously to gather support for the actual disaster victims that are not yet provided for.
This office wants to reiterate that it has no problem with anyone wanting to help, but must do so within the limits of the law. Hon Jatta as one of the most experienced personalities in the Assembly I am sure will have no problem with that, especially as he was part of the process.?
Read Other Articles In Article (Archive)