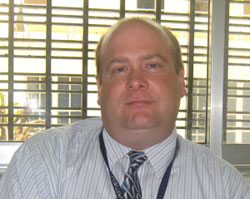 The United States Embassy in Banjul has announced that it will begin to accept online visa applications, doing away with the paper-based forms familiar to applicants, with effect from Monday 3rd May 2010.
This was announced by officials at the United States Embassy, during a news conference organised to brief the press about the new development, held on Friday.
Addressing journalists at the press briefing, the consular officer at the US Embassy in Banjul, Michael Fitzpatrick, said the embassy will in the meantime continue to accept the old paper-based forms.
But he was quick to announce that starting from Monday 17th May, the use of the new online system will become mandatory for all visa applicants.
He revealed that DS-160, which is the new online form, will be available via a link on the embassy's website (http: //banjul.usembassy.gov), beginning on Monday April 26th, 2010 for use by applicants.
According to Mr. Fitzpatrick, some countries have already started using the new system.
After completing the form online, the visa applicant will submit the form online and the information will be electronically transmitted to the US Embassy.
"Applicants will then print out a confimation sheet, which they will need to take to Standard Chartered Bank to pay for and receive an interview date," he added.
According to the consular officer, the change to the online DS-160 form will not change any other part of the current application process. "Moreover, the new online application form will make the visa application process more efficient, secure and accurate," he added.
"Since the paper-based application will no longer exist, it is environmental-friendly," he further noted.
Speaking earlier at the press briefing, the head of the US diplomatic mission in The Gambia, Ambassador Barry L. Wells, noted that the change is an important step for the embassy in terms of visa processing.
The new system was welcomed by customers, because it is paperless, he pointed out, adding that the system has improved customer satisfaction in other parts of the world where US embassies operate.   
Read Other Articles In Article (Archive)