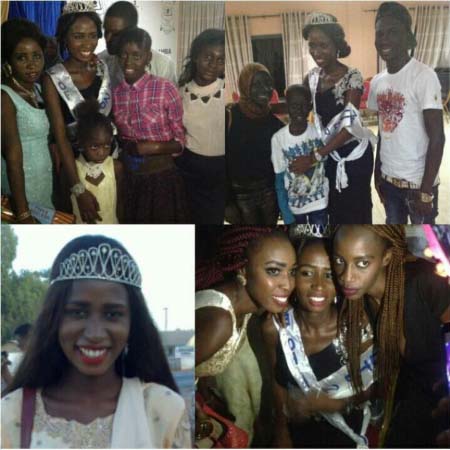 Adama T. Yarboe, the recently crowned face of the UTG, has said her first priority is to address the issue of students with disabilities.
She said this was the platform she used during the competition, and it would not stop there.
She had already started approaching the authorities at the UTG to consider students who will be coming to the UTG and may have issues with disabilities.
Adama T. Yarboe said the event, where she was crowned the face of UTG, happened on 9 April 2016 at the law auditorium of the university.
She said the concept is to scout out the face of the UTG or the ambassador as others would call it.
She noted that this is very important, because students should not only come to the university to only get a degree and go, but to venture into other extracurricular activities and see how you can impact in to the lives of other people.
"My platform was disability, is not inability; social justice for disabled people is yet to be met. So I was urging the people, especially the authorities at the UTG, to play a bigger role in the allocation of resources to the people with disabilities, so that they can also have a sense of belonging in academia.
"Looking at my school for example, that is, the law school, the school has a staircase. What would happen to someone using wheel-chairs, and wants to attend this school? It would be so difficult for them.
"I also have a classmate, who is visually impaired. He can't use the handouts that we use; he has to use a computer and use a software called Guide. I sometimes see the difficulties he goes through. I use Musa as a case study in my platform.
"This classmate faces lot of constraints during and after lectures; he is just an example, and a lot of other people with disabilities are facing difficulties at their various schools. As the new face of the UTG, this is my number one concern."
Adama T. Yarboe added that she would like the persons with disability to have a friendly environment in any school they find themselves.
"Justice should play a bigger role in the allocation of resources. Let them provide typewriters; let them provide avenues where the ones in wheel-chairs can use easily without trouble etc."
"Equal rights and justice for all at education centers is my concern, this is the platform I used, and on which I was crowned the winner." 
Adama Yarboe also called on her fellow students to be taking part in extracurricular activities of the school, "as this is very important for a university student."
Read Other Articles In Article (Archive)