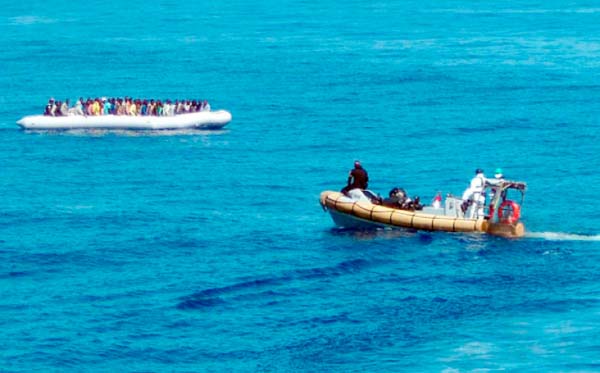 Seven hundred migrants are feared dead off the coast of Libya within three days, says the UN refugee agency.
The sinking and breaking of ill-fated vessels happened in the south of Italy on Wednesday, Thursday and Friday leading to the disastrous accidents.
"About 100 are missing from a smuggler boat which capsized on Wednesday, 550 other migrants went missing in a similar accident on Thursday, and survivors said their vessel was towed by another vessel since they were not having an engine.
On Friday 45 bodies were pulled from the water, with an unspecified number still missing", reported the BBC.
Most of those identified are from Somalia, Eritrea and Sudan says Federico Fossi, the spokesman for the UN refugee agency.
At least 1,475 migrants have died this year, according to the International Organisation for Migrants.
However, this number could skyrocket if the 650 missing are confirmed dead.
According to the Interior Ministry, the situation could have been worse. More than 12,000 migrants were rescued from the Mediterranean in the past week, the Italian Navy, Coast Guard and Interior Ministry said.
Medecins Sans Frontiers (Doctors Without Borders) deployed two search-and-rescue boats, called the Dignity 1 and the Argos, in the Mediterranean.
This disaster is no sign to say the flood of migrants will stop anytime soon. In fact, analysis has shown that more than 194,600 migrants have fled to Europe just from January to May, doubling the figures of the first five months of the past year.
One major problem that lies ahead for those who survive the dangerous journey to Europe is the uncertainty of their future. 
Read Other Articles In Article (Archive)