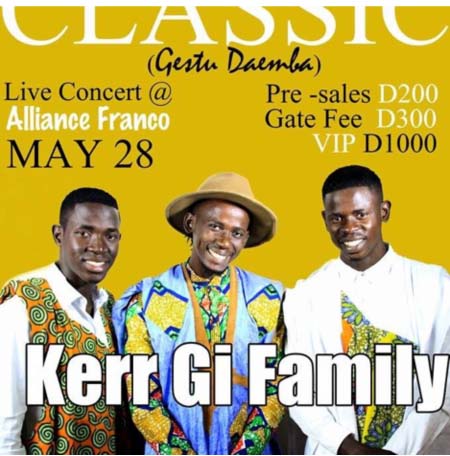 Kerr Gi Family, no doubt, is a household name in The Gambia's music scene.
The group comprises three-siblings, Barhama, Poliman and DMB Cham, who since inception in 2009 have a dream of contributing to the country's music scene.
In this move, the group has taken a new dimension that they see as feasible, that is, promoting not only music but also the country's culture.
Cognizant of the fact that culture is one of the things that define who we are as people, as it brings people together, the group is about to stage a spectacular show dubbed, The Classic-'Gestu Demba' on May 28th 2016, at the Alliance Francaise along Kairaba Avenue.
The Classic (Gestu Demba), is a concept designed to revive and blend old school music and that of today. 
Speaking at a recent press briefing, Gibou Saidy, an adviser to the group, stated: "The idea is that we want to bring the best of yesterday's music and today's music in one platform. We believe that there was music enjoyed in the past, but they are yet to be in today's platform. So in a nutshell, this is what Kerr Gi Family intends to do in the previous years. I would be glad to say that the group has registered numerous successes in the country's music scene ranging from their projects in the past."
But to interact with them better, Saidy went on, the group felt that yesterday's old school music was good music, and is still applicable to audiences of today.
The Classic, he went on, has a primary target as they have elders who support their music, but find it difficult to attend their shows.
"Because it is not the type of show that they want to attend, we say fine, we want to give back to them by staging a Classic for them," he added.
For Barhama, the new initiative is not just classic by name, but classic in what they are about to produce.
"We are planning this event to be an annual event. It is something that we want to be doing from time on; and it is always nice to reflect how beautiful the music of yesterday was. As young people, we cannot just concentrate on today's music without remembering the past."
He maintained that in a nutshell the move is designed to celebrate the country's legends.
Other speakers included Poliman and DMB Cham, who all lauded the initiative, and urged people to come out in their numbers to grace the event.
Read Other Articles In Article (Archive)