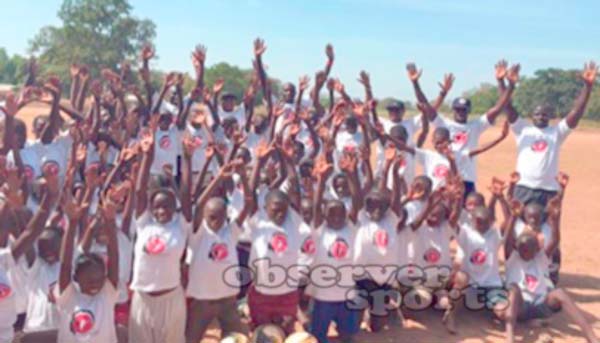 NDA Mariam Jagne Family Foundation, in its efforts at developing tomorrow's stars today, on Saturday held its third football clinic for primary school students in Bwiam.
The clinic, which got both boys and girls from grade two to six involved in the warm-up, was held at the Bwiam Primary School football field in the Foni Kansala District of the West Coast Region.
The reason for creating the football clinic is to reduce maternal mortality as Pa Modou Jagne lost her mother at the age of two in pregnancy complication when she was giving birth.
Speaking at the ceremony, Pa Modou Jagne, the initiator of the support, said he and his wife founded the foundation in 2012 after having their first baby.
The foundation was established because he lost his mother in pregnancy complication when he was two years old, Jagne said, adding that he wouldn't want any child to be without a parent, he stated.
"We are not saying that we can stop women dying during child birth but at least if we can save one is a very good achievement," he remarked.
Their target is to go countrywide to reach out to as many kids as possible, he said, adding that giving kids the opportunity to train and chat serves as a big motivation to them.
Pa Modou Jagne was accompanied by his wife Ndey Mariam Jagne and some teammates as Momodou Futty Danso, Demba Savage, George Cole, Sainey Nyassi and Sanna Nyassi as well as Coach Ebrima Joof.
Momodou Futty Danso, for his part, advised the kids to give maximum respect to their parents and elders, saying for one to achieve success in life, he/she has to be someone with discipline.
He also advised the kids to take their schooling very seriously, saying NDA Mariam Jagne Family Foundation has set itself the task of developing tomorrow's stars today.
Domingo A.S. Mendy, Principal of Bwiam Lower Basic School, in his remarks on the occasion, described the clinic as "a very important opportunity" for his students, citing the like of Gambian Internationals Sainey and Sanna Nyassi, who are natives of the village.
With the training offered by the foundation, some of the kids would take up the career, he went on, but was quick to add that not all of them would become professional footballers.
Concluding, he urged other football players to emulate Pa Modou Jagne, saying his initiative is out to develop grassroots football in the country.
Read Other Articles In Article (Archive)